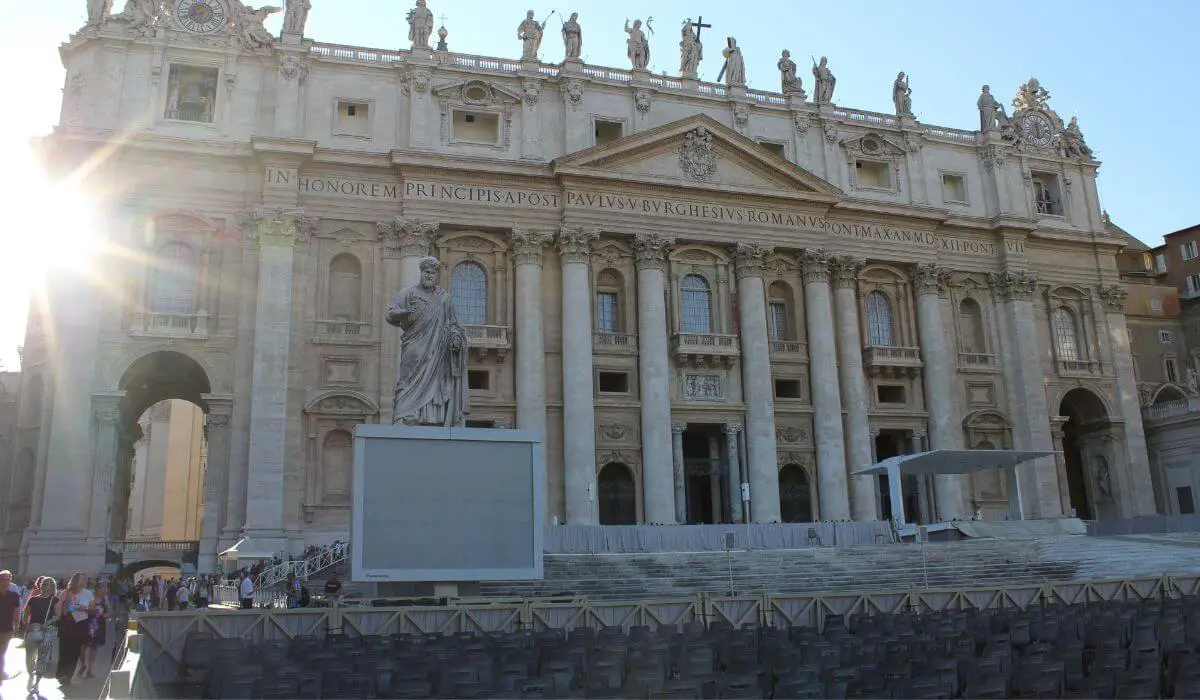 Easter Mass Vatican City: Dress Code, Tips & Tickets
---
Do you need Easter Mass Vatican tickets? Is attendance only available for Vatican citizens?
How do I get there? Should I reserve in advance?
We will answer these questions and more in our Vatican Easter Mass guide.
Let's waste no time and get stuck right in.
When Is The Pope Easter Mass At The Vatican?
It is no surprise that this sacred holiday for Christians has high importance in the Vatican annual calendar.
The Easter Service Pope led celebrations are anticipated eagerly as soon as Christmas is finished and the New Year begins!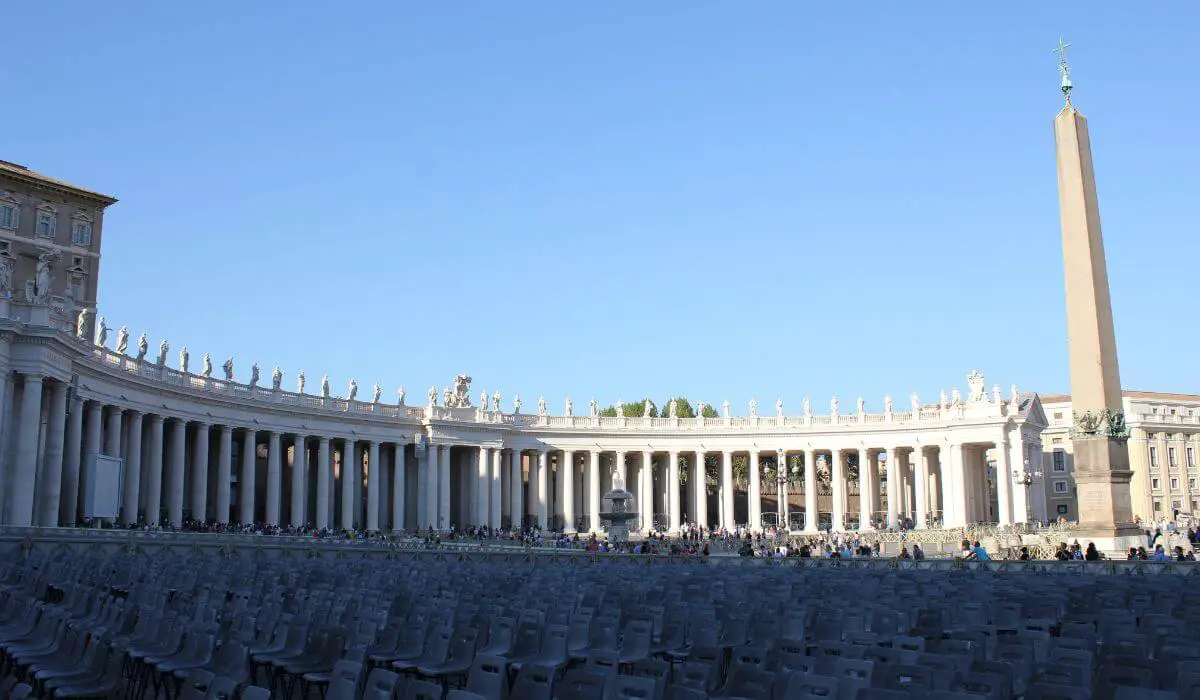 In 2022, 5500 pilgrims attended the Pope Francis Easter message, but many thousands more watched it broadcast live on TV.
The mass is held annually on Easter Sunday, usually beginning a little after 10 AM. Unfortunately, we can't give you a fixed date! Easter Sunday is a moveable holiday, beginning sometime between the end of March and the end of April.
Entire Vatican Easter Mass Schedule
The Easter Service Vatican celebration mass is the most important piece of the Easter festivities in Rome.
Easter celebrations in the Vatican are usually kicked off on Palm Sunday a week earlier, leading up to the Easter Sunday mass Pope Francis (or his successor!) executes.
Holy Thursday, Holy Saturday Mass Vatican celebrations, and Good Friday all have particular events as well.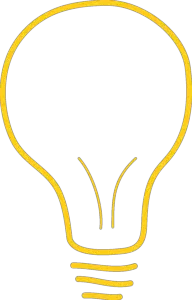 Tip – Entry to the Easter Mass celebrations begins at 7.30 am, and the service begins at around 10 am. After that, there is a traditional blessing known as the Urbi et Orbi, conducted from the terrace of the Basilica at midday.
How To Attend Easter Mass At The Vatican?
Arrive early at St Peter's Square – The entrance opens at around 7.30 am.
If you are there early you might be lucky enough to get a seat or position yourself around the "aisles" created in order to get a glimpse of the pope mobile when it comes round later on!
What Time Is Easter Mass At The Vatican?
Easter Mass at the Vatican begins at around 10 am, but the entrance is open from as early as 7.30 am to allow the crowds to gather.
How To Get Tickets To Easter Mass At The Vatican?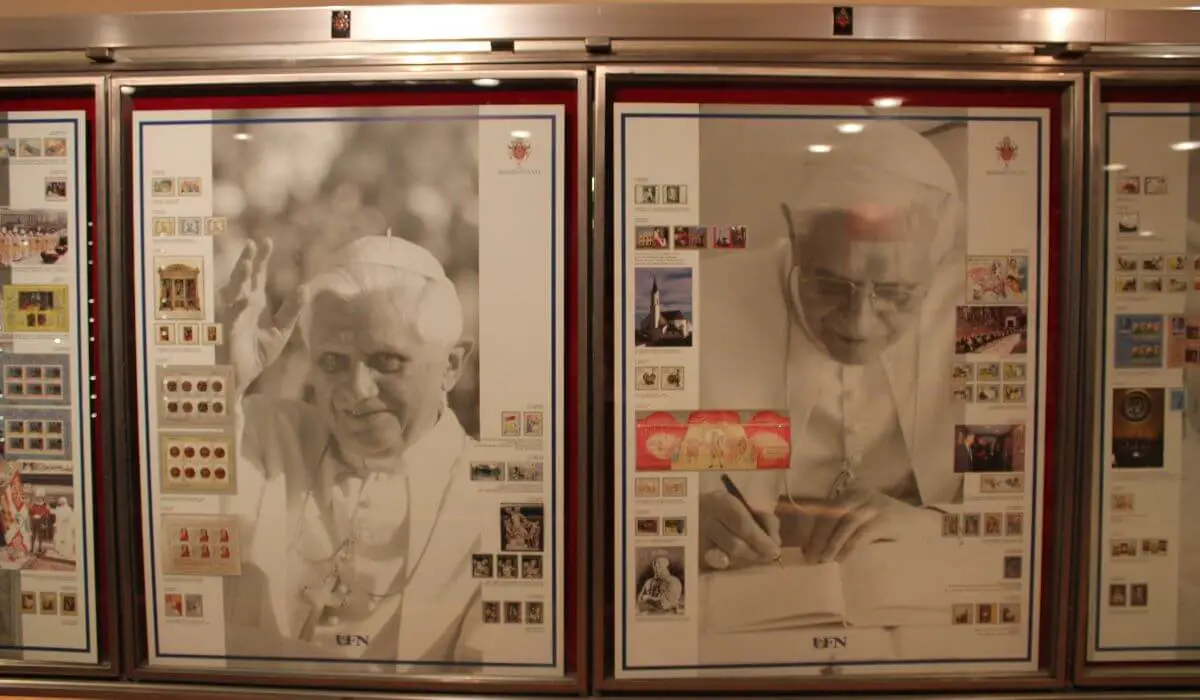 It is free to attend this special celebration, but Vatican Easter Mass tickets are required nonetheless. The best is to reserve tickets as far in advance as possible. The procedure to get tickets is quite outdated – you have to fax the Papal Household Website.
Someone will then get in touch to arrange a collection of hard copy tickets once you reach Rome. There is, however, another option – but not as guaranteed. The Swiss Guards hold a small number of tickets – but take this option at your own risk in case they don't have any left…
What To Wear To Easter Mass At The Vatican?
As you may have read in our Vatican Dress Code guide, there are particular rules of dress when entering some sites at the Vatican.
St Peter's Basilica and the Sistine Chapel are examples of that. You should dress for Easter Mass in the same regard – even though it is held outside in St Peter's Square.
Your Dress Code for Easter Mass at the Vatican should therefore be respectful of the traditions.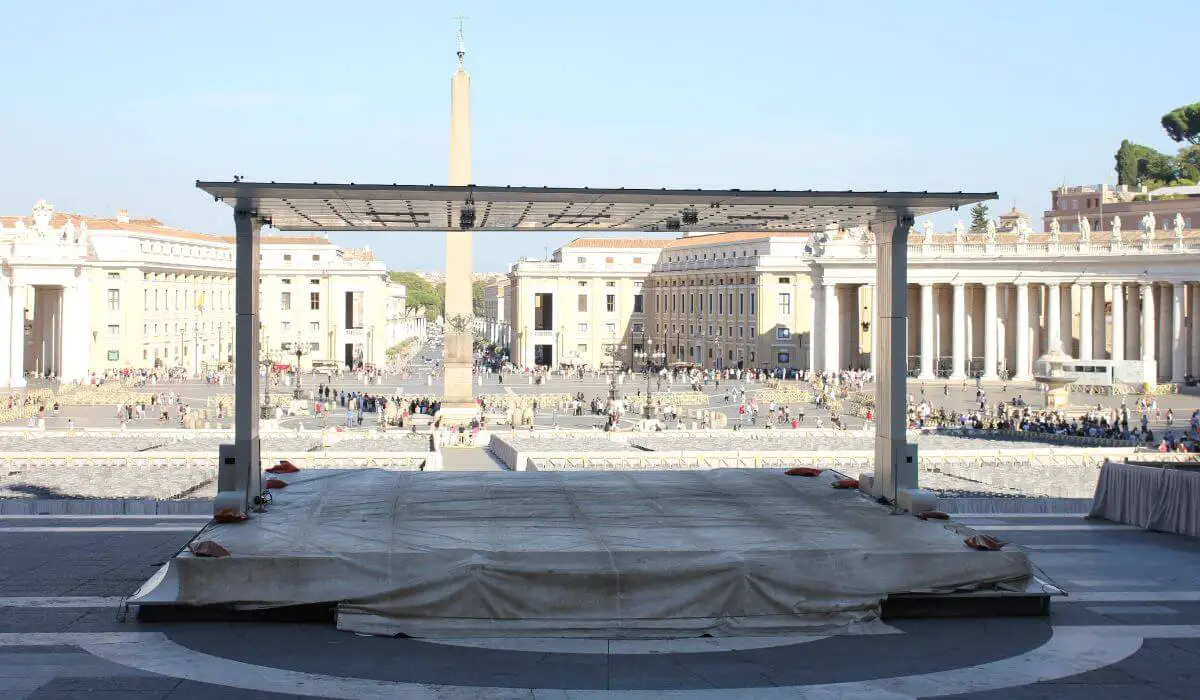 Men and women alike should avoid bare shoulders and shorts, offensive tattoos and symbols on clothing, exposed midriff, or any other attire that may be deemed inappropriate for such a setting.
In addition, bear in mind that April in Rome can be hot or cold, wet or dry.
Whilst it is pretty likely you will get a good day, bring one of those foldup raincoats in case of unexpected bad weather.
And one more thing – make sure your shoes are comfortable! If you are not lucky enough to get a seat, standing around waiting and then actually listening to mass can take a toll on the old feet.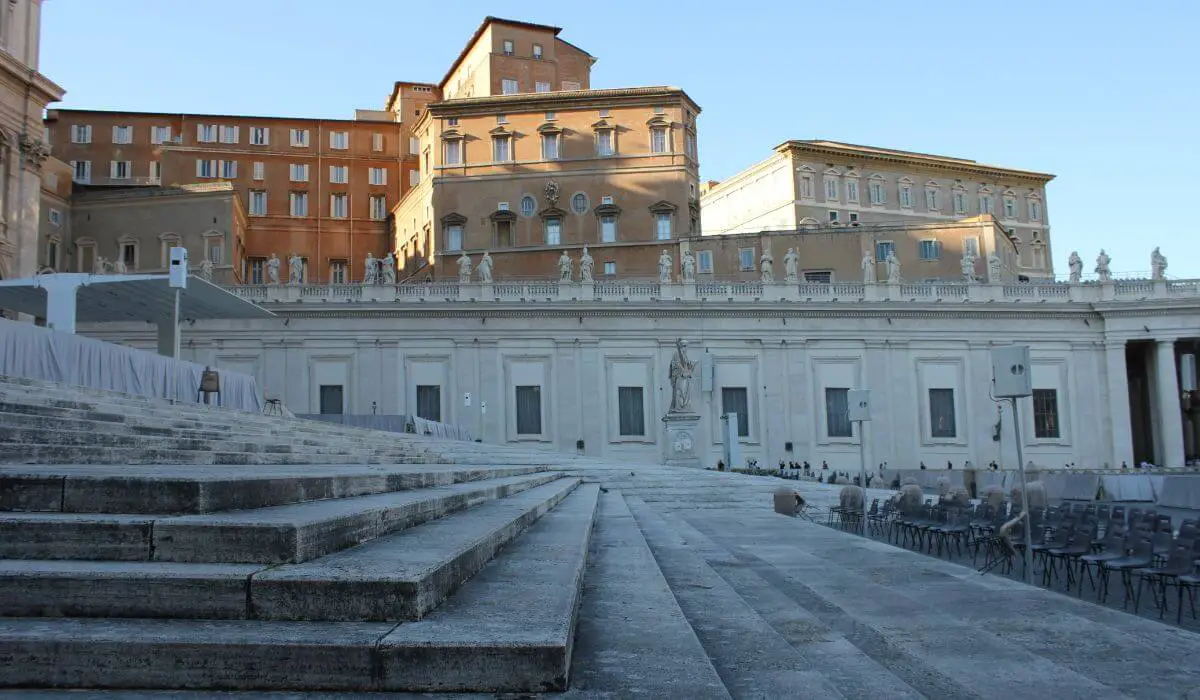 Heading to the Vatican Easter Mass? We're jealous! It is quite an experience.
Here are some of our top tips before you go:
Bring food, water, snacks, and something to keep you entertained – it can be quite a long wait.
Book your tickets well in advance.
Plan to be there BEFORE the entrance opens at 7.30 am -sometimes queues can form OUTSIDE well before that.
A cap or hat to protect from the sun – especially later on in the day if you stay for the blessing – suncream and raincoat.
For the elderly or little ones – consider one of those fold-up camping chairs or stools.
Is There A Live Stream? Watch It On Youtube
If you are not fussed on the crowds, waiting, or uncertainty about getting a ticket, never mind – you can still catch the full thing on the Vatican Easter Mass live stream.
Or, if you have planned to go next year, it is fun to check out the Easter Mass Vatican Online streams from previous times to get a feel for what to expect.
Wondering What To Do After? 3 Places to Visit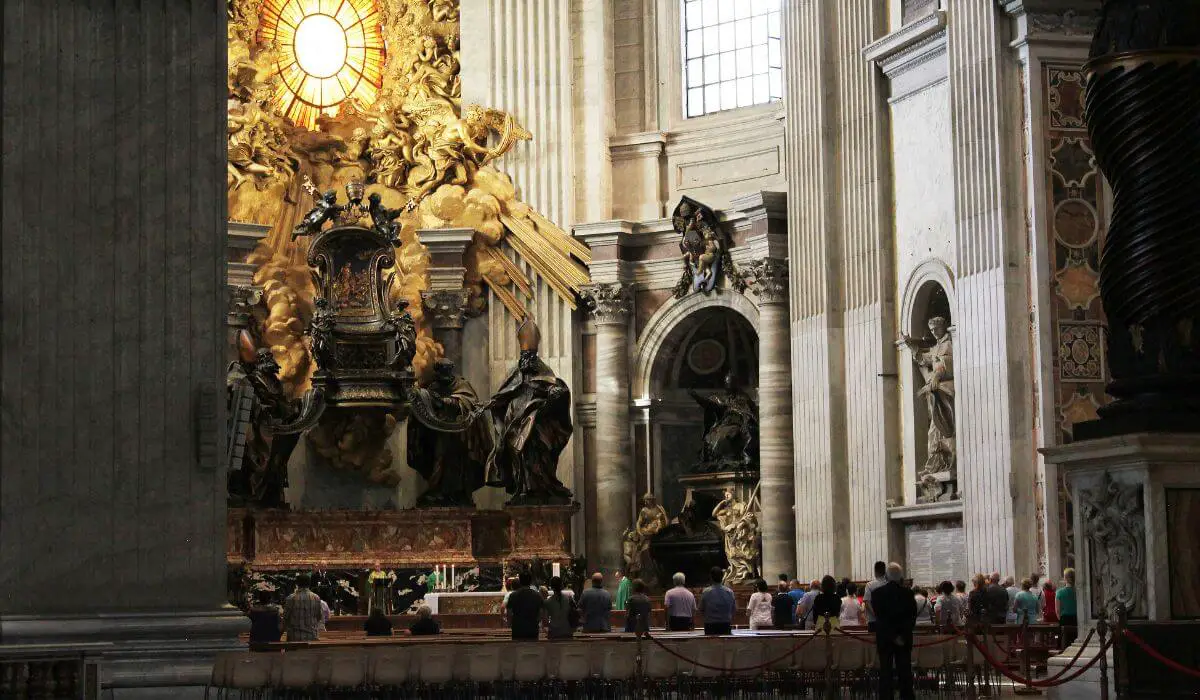 You are in a prime location to check out some of the best sights around.
Unfortunately, however, the Vatican museums aren't one of the attractions you can see on Easter Sunday – they are closed until Easter Tuesday.
Visit St. Peter's Basilica
Visit the Basilica at 1 pm just after the Pope's blessing – it will be crowded as many do hang around to hear it, but it is possible, and entry is free.
Climb the Dome of St Peter's Basilica
It is over 500 steps up to the top of the dome, but the views are worth it! Alternatively, you can pay a small ticket fee for the elevator and then walk only 320 steps up.
Head out for Easter Sunday Lunch
There are dozens of restaurants in the area, and you may be starving after all that standing around (or climbing lots of steps).
Book 3 Comfortable Hotels Near St Peter's Square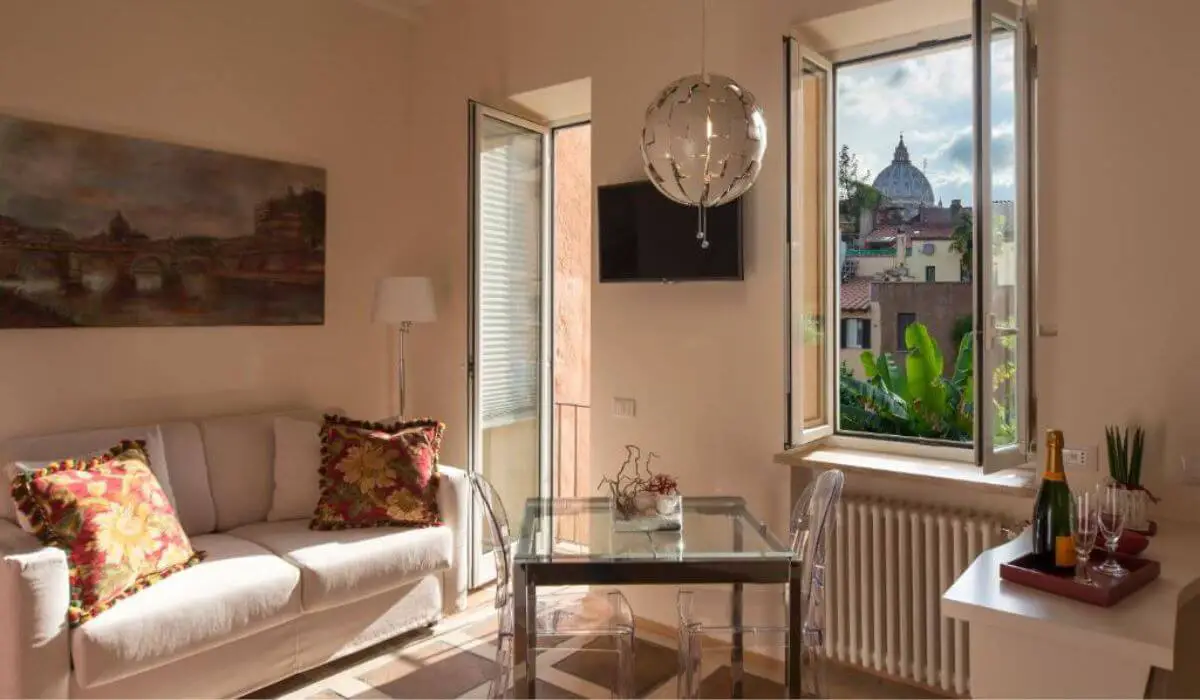 Landing late and want to wake up right in the heart of the action?
Then these 3 great hotels near the Vatican will set you up for a quick route to St Peter's Square first thing in the morning.
Comfortable rooms with breakfast and a decent price of around €200 per night! What more can you ask for over a crowded Easter weekend in Rome?
With views over Vatican City, this is a special place to stay for those looking for a treat. Rooms take on a homely feel with suite-like accommodation. Perfect for families.
Sleek design in the heart of Rome, this hotel books up very early in advance of Easter. Book in time to secure rooms at around €260.
Frequently Asked Questions

What is Easter Vigil Mass at the Vatican?
The annual Easter Mass at the Vatican commemorates the day Jesus rose from the grave! It is a special celebration for Christians the world over, and those of the Catholic faith look at this particular mass - broadcast live across the world - as the ultimate marker of this memorable event.
Does the pope do Mass on Easter in Vatican City?
If in good health, popes hold Easter Mass in the Vatican City every Easter Sunday to crowds of over 5000 people in St Peter's Square.
Is Easter Mass from the Vatican on tv?
The mass is televised so the faithful can watch from across the globe!
How many people attend the Vatican Easter Mass?
Over 5000 people are estimated to attend - in 2022 it was 5500.
How long is Easter Mass at the Vatican?
Easter Mass at the Vatican starts at just after 10am and will be over in time for the 12pm global blessing that is broadcast around the world.
This is a really special occasion that should be experienced once in a lifetime!
Try to get tickets well in advance, so you are not disappointed. Now, why not see what there is to do in Vatican City for the remainder of your trip?
This can include skip-the-line tickets to the Vatican Museums when they reopen on Tuesday after the celebrations or access to the lesser visited Vatican Gardens.