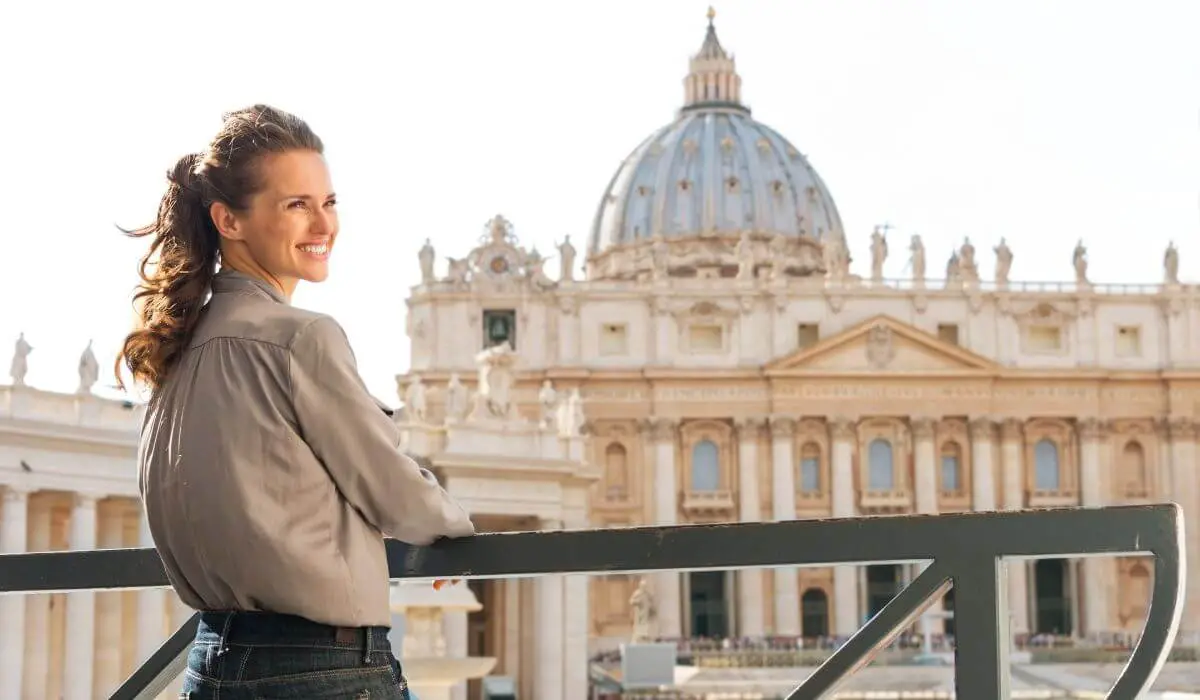 Vatican Dress Code For Women, Men & Kids
---
It is important to take note of the Vatican dress code before you visit – it is likely you will get turned away if you do not pay attention to the requirements.
In fact, the Vatican states that "Admission to the Museums is allowed only to properly dressed visitors".
The Holy See is home to the Pope. Catholics believe he is God's representative on earth.
Like in many holy places in Italy and elsewhere worldwide, it is expected that in churches and other locations in the Vatican that a modest dress code is applied.
We will give you the lowdown on what to expect here.
Is There A Dress Code At The Vatican & What To Expect?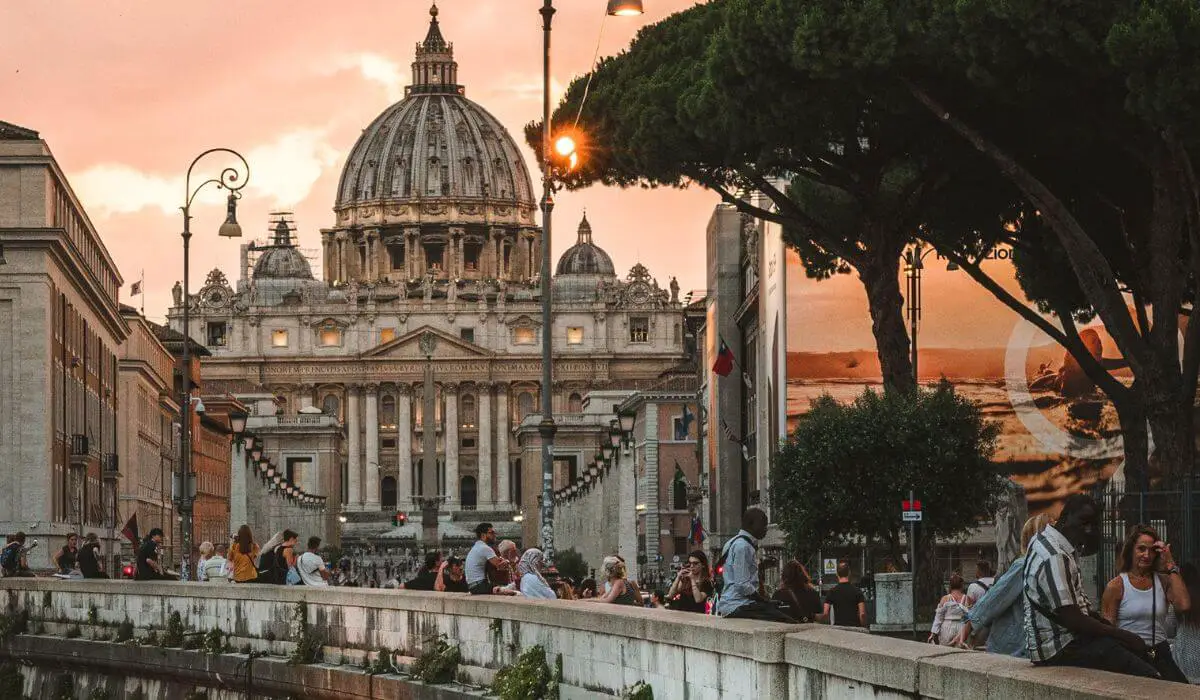 We have just discovered there is a dress code in the Vatican – but what does that actually mean?
Well, it's a basic code you need to follow to 100% guarantee you will be allowed in. The Vatican website gives clear guidance here, but in general – anything above the knee or the upper arms should be covered.
If you fail to follow the guidance in the areas it applies to you run the risk of getting turned away. The areas where it is required are the Sistine Chapel, St Peter's Basilica and The Vatican Museums.
Let's get into the specifics.
How Strict Is The Vatican Dress Code?
Signs are on display at the Vatican to advise you of the requirements – the basics being that you should not show lower legs and keep your top half covered at least above the elbows.
But in reality, it is much more subjective than that. For example, as the guards decide who can and can't enter we have had reports of people being turned away for other reasons beyond that.
This includes those wearing Shirts with offensive slogans or language, informal baseball caps or hats, low cleavage on ladies, ripped jeans and even flip flops.
On the other hand, on really hot days we have seen people being allowed in shirts and lighter clothing at a particular guard's discretion, but don't bank on this – it is still likely you will be turned away.
Quick List Of Forbidden Things To Wear
These three things are absolutely forbidden in the Vatican Museums:
Shorts or skirts above the knee
Spaghetti strap dresses or tank tops
Tops exposing midriff
Thighs Are Not Forbidden (But Not Advisable)
These things are not expressly forbidden, but for good measure and respect you should avoid wearing/displaying these items:
Baseball caps or hats are considered inappropriate
Offensive t-shirts or slogans with bad language or symbols
Tattoos should be covered if they will cause offense
Flip-flops are not forbidden but are deemed very casual – use comfortable walking shoes instead
Ripped clothing that exposes skin is considered inappropriate
Quick List Of The Perfect Attire For The Vatican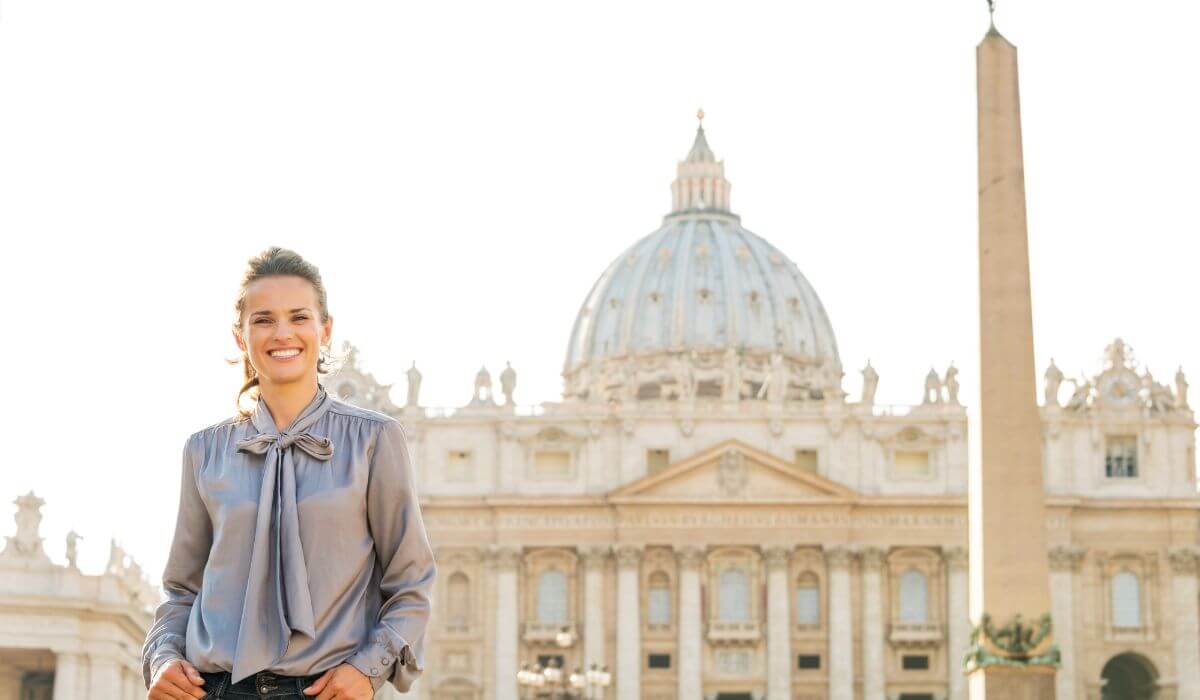 For men, wear a shirt or long-sleeved plain t-shirt and trousers with comfortable shoes. For ladies, dresses that come to the mid calf are acceptable.
We would advise against long flowing maxi dresses, purely because you may trip as you look at the beautiful sights in the Vatican.
Same goes for flip-flops. Whilst they are not expressly forbidden, they are a trip hazard, especially on older floors or climbing stairs. They also make a loud noise in the Sistine Chapel and may be considered by some guards to be too casual for entry.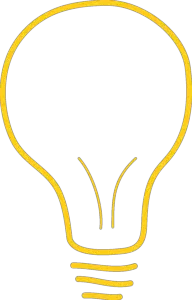 Tip – Make sure the shoulders, upper arms, and below the knee are covered at all times. Follow this guidance and you will have the Vatican Dress Code mastered in no time!
What Happens If You Break Vatican City Dress Code?
If you are not wearing appropriate attire you run the risk of queuing for hours only to be turned away at the last minute by the guards.
And if you disrespect the dress code once inside the museums or chapels you will be asked to leave with no refund!
Is a Dress Code For the Vatican Unreasonable?
In our view no – it is a special religious place and should be treated with respect, as with any church or other religious place of worship or establishment.
If you do not wish to comply you can borrow plastic coverups at the doors to ensure your modesty, then discard at the end.
How To Dress For The Vatican?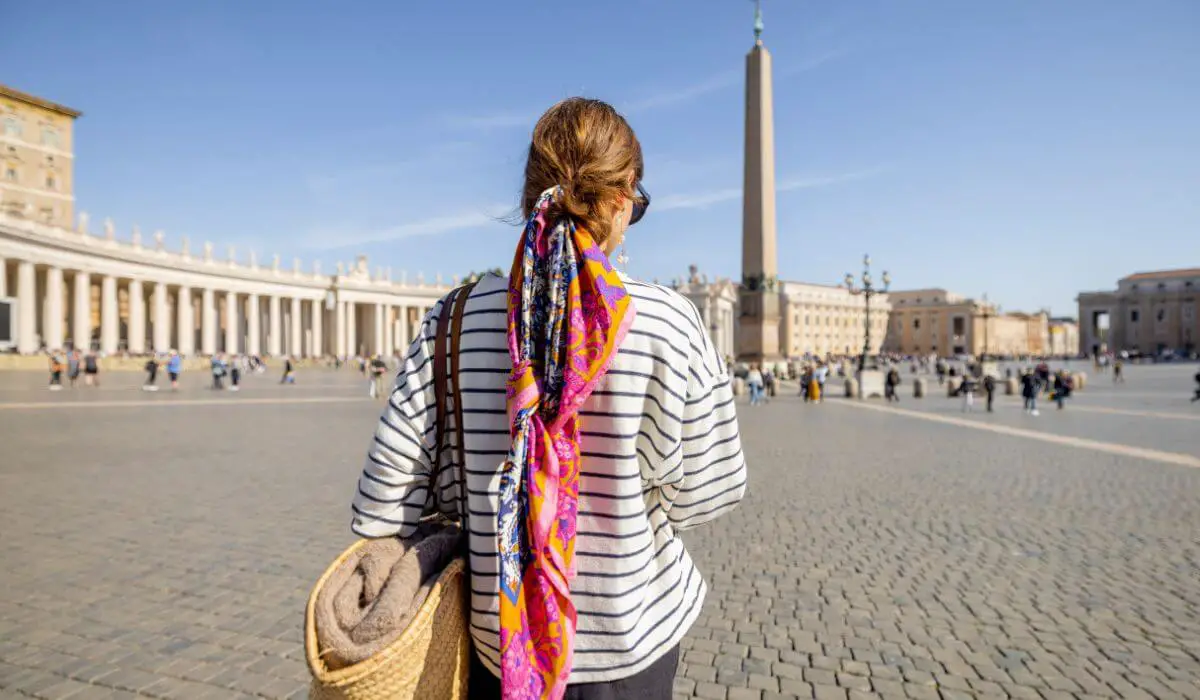 The Women Vatican City Dress Code is the same as it is for men!
Here are a few top tips for ladies – don't wear high heels or high sandals. Wear comfortable shoes.
As stated before, long flowing maxi dresses can be a trip hazard, but you may prefer to wear a three-quarter length dress to keep cool in the hot summer months.
Otherwise, a long-sleeved top and trousers to at least calf level will keep you right. It is not necessary to cover the head.
Men Dress Code for the Vatican
Avoid t-shirts that show the upper arms – best to wear a semi-formal shirt and trousers with comfortable shoes to ensure you will get entry. Baseball caps or other hats are a no-no as well.
Vatican Dress Code for Children
It is a bit more flexible for kids, but still try to conform – shirts should not be strappy and shorts should be to the knee. Of course, very small babies are exempt.
Dress Code For Visiting The Vatican Most Famous Attractions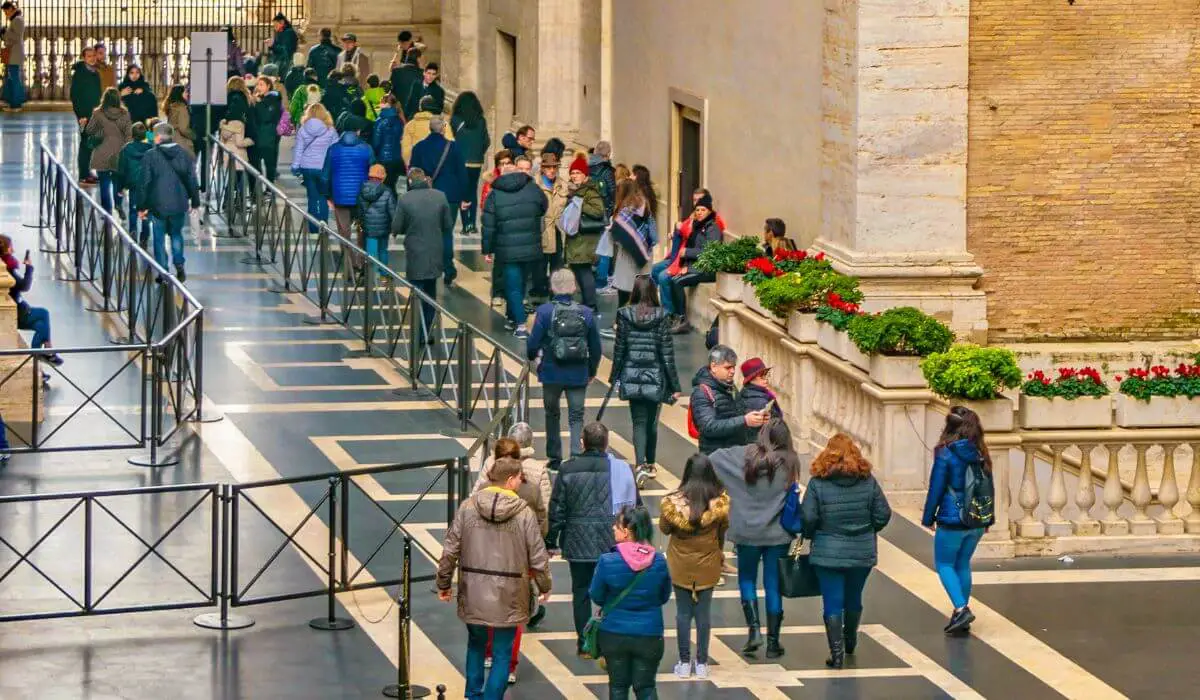 At which attractions do you need to consider the dress code?
Here is the list to keep you on the right path.
Vatican Museum Dress Code
Keep arms and lower legs covered, ensure you are not showing any midriff and remove hats, offensive jewelry and slogans from clothing.
The Vatican Museums are VAST – so wear comfortable shoes. If visiting in winter, wear layers so you can remove a jumper if it gets too hot inside.
Dress Code For Visiting The Vatican Sistine Chapel
Do not wear flip-flops – they make a clicking sound in this beautiful holy place!
Cover arms and legs and do not wear anything that causes offense. This includes shirts or even bags with offensive slogans or language.
You should cover any tattoos that might be deemed inappropriate.
Vatican Dress Code For St. Peter's Basilica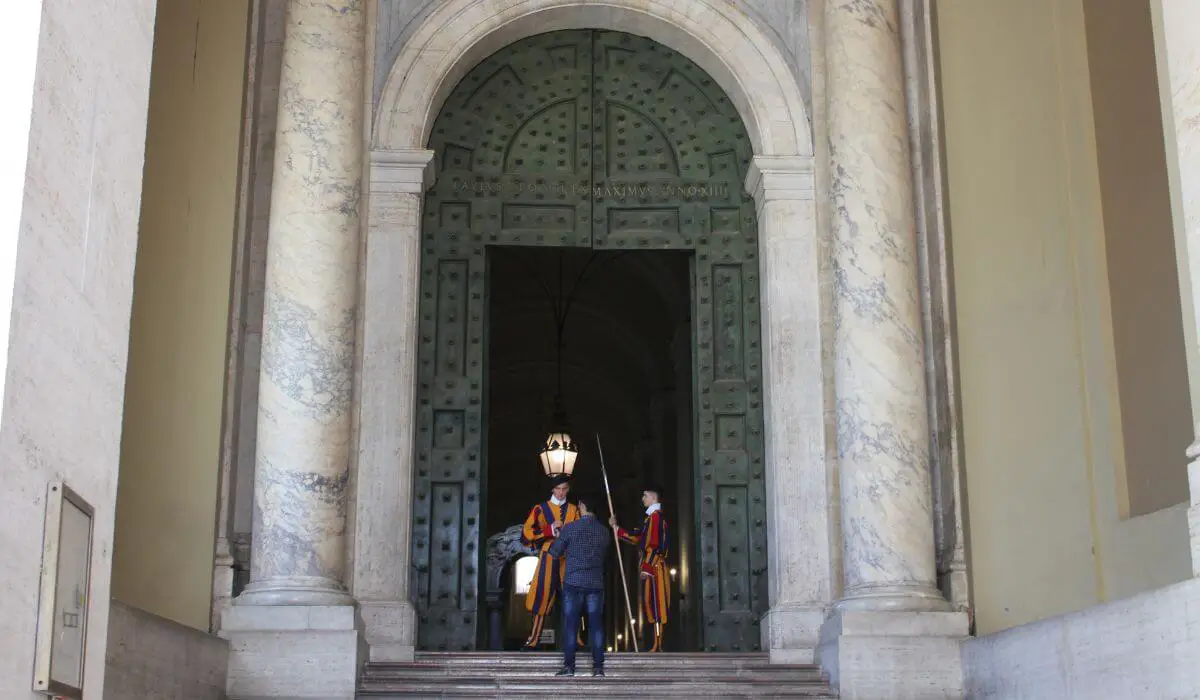 Follow the same dress code as for the Sistine Chapel here.
In addition, you may want to climb the stairs to the top and get those great views. For that reason, we recommend no flip-flops or really long dresses for women as they can represent a trip hazard.
Note that if you are attending mass in the Basilica, women can wear hats but men are not allowed to.
Everyday Dress Code For Vatican City Tours
There is no specific dress code for getting on to a tour bus or a walking tour – but either way you will have to cover up to enter the attractions.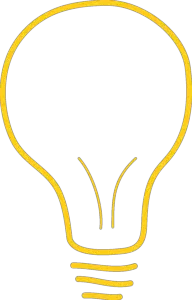 Tip – If you are concerned about being too hot, ladies can bring a shawl or other coverup in a bag and use it when entering the attractions.
Papal Audience Dress Code
If you are attending the papal audience in St Peter's Square you need to follow the same dress code for mass as in the internal attractions.
Vatican City Dress Code Tattoos – Should You Hide It?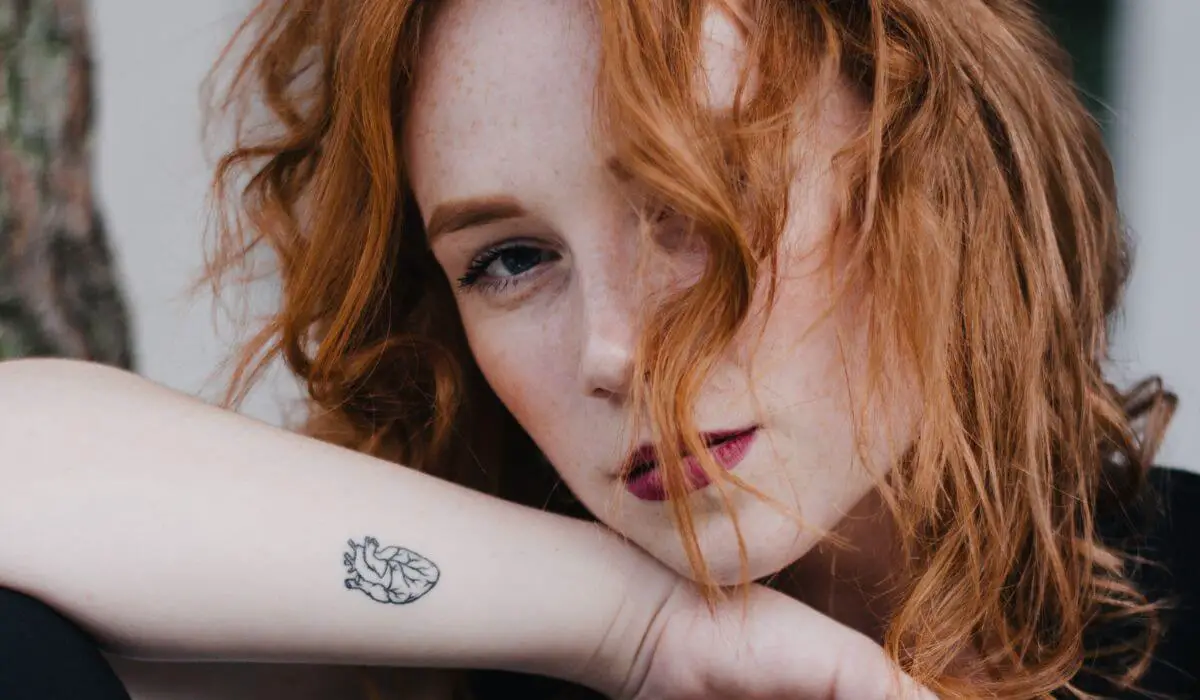 Tattoos are not forbidden in the dress code, but offensive slogans or other symbols are. So, if you have a tattoo that represents something offensive to the Catholic Church you will need to keep it covered.
Is There A Dress Code At The Vatican Restaurants and Bars
There is only one bar in the Vatican City and it closes at 4 pm!
There are also a few restaurants or cafes in the attractions – if they are in the museums you should still adhere to the dress code even when eating your lunch!
Can You Be Escorted Out? What to Do?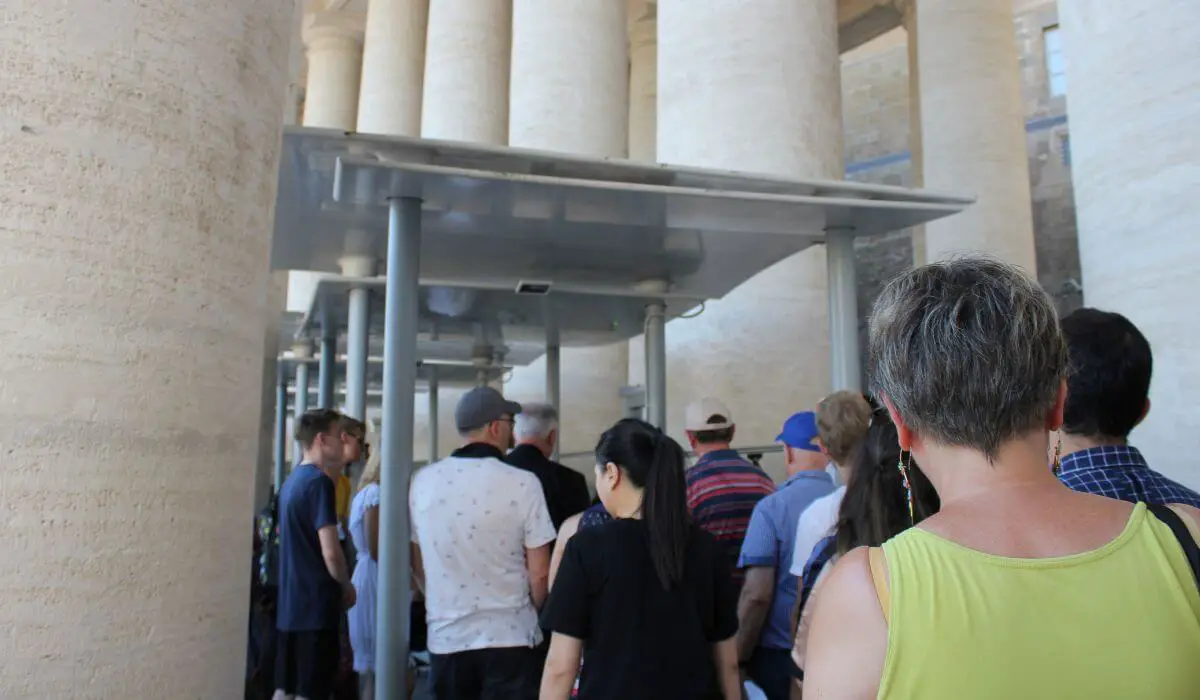 The guards are generally very discrete.
If you are inappropriately dressed and get to the top of the queue they will ask you to cover up and offer you one of the on hand covers for your visit.
If you have somehow managed to get in without following the dress code and another guard sees you they will not likely throw you out straight away. They'll ask you to comply and offer you one of the plastic covers.
If you are offensive or aggressively without any disregard for the rules then they will escort you off the premises and you will not get a refund for your ticket.
Dress Nicely And Visit The Best Vatican City Tours
Now you know the dress code, here are some of the best tours you can undertake in the Vatican City.
Vatican City Night Tour – From €52 per person, visit the attractions of the Vatican City at night. Reduced crowds and a very special atmosphere make for an extra cool experience. Get your ticket here.
Standard Skip The Line Ticket – From just €26, this Vatican Museums and Sistine Chapel entrance offers skip the line access straight to the doors! Tickets are available here.
Private Vatican Tour – One for the real history and art buffs – a private guide takes you through the Vatican and the Sistine Chapel, uncovering all the hidden details. From €190 per head. You can book a private tour here.
Frequently Asked Questions

Why does the Vatican have a dress code?
The Vatican is the home of the Pope and the center of catholicism. You should dress respectfully here in order to not disrespect the religion.
Can you wear shorts in the Sistine Chapel?
The only permissible "shorts" would need to be those that come below the knee.
Are tattoos acceptable in the Vatican City?
Tattoos are not expressly forbidden in the Vatican City however any offensive tattoos or symbols are not acceptable.
Can I wear ripped jeans to Vatican Museums and Sistine Chapel?
We doubt anyone will call you out for a little rip in your jeans at the knee, but hugely ripped up clothing may result in you getting turned away.
Can you wear leggings in St Peter's Basilica?
Yes, leggings are acceptable, but it is best to pair it with a longer shirt.
Can I get a penalty if I break the Vatican dress code?
You may be asked to leave and will not get a refund of your ticket.
You can now visit the Vatican in the knowledge that you can safely navigate the dress code.
Now, book yourself some skip-the-line tickets to the Vatican Museums to ensure you don't waste time in unnecessary queues!