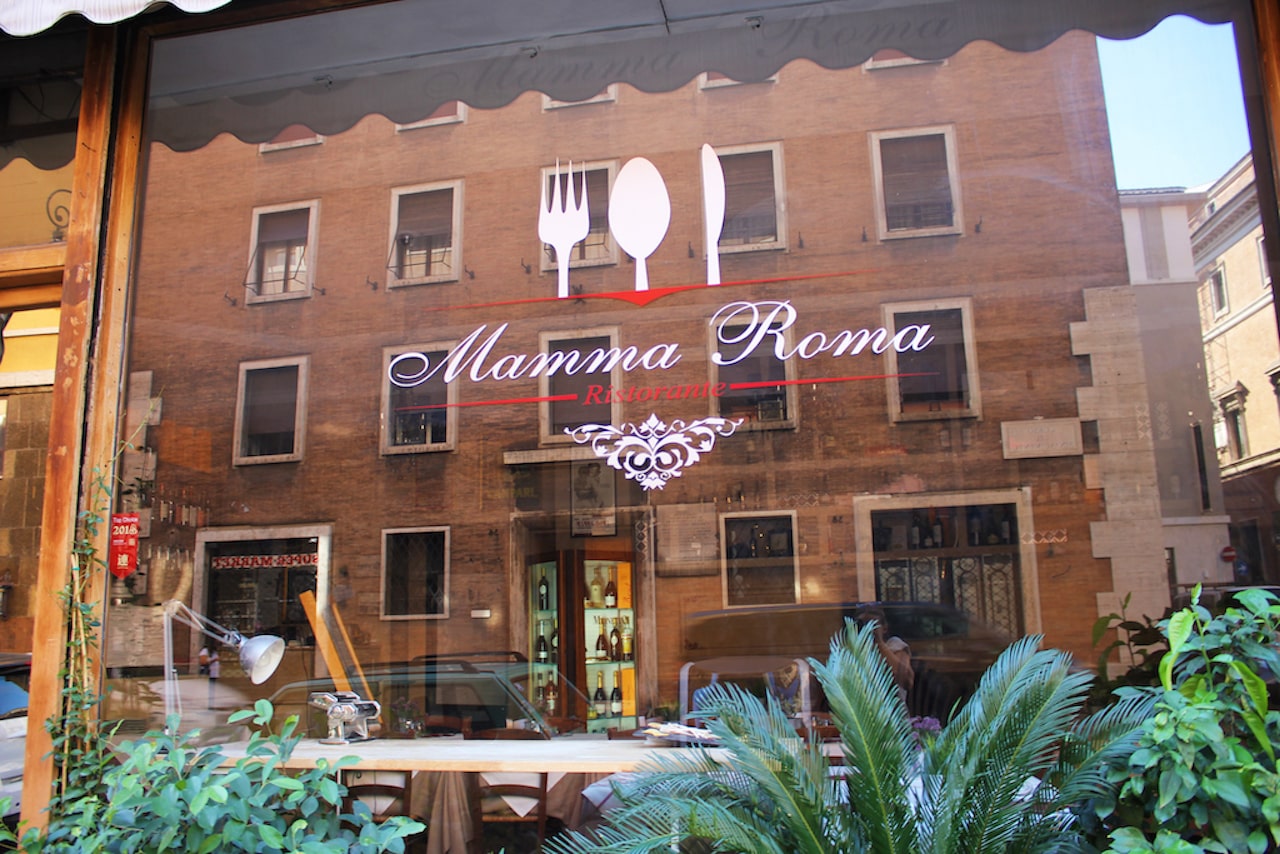 Restaurants near the Vatican : Where to eat during your visit ?
Looking for restaurants near Vatican ? A lot of people don't think about where to eat in in the Vatican City – most don't even know it's possible and assume they will visit the Museums and Basilica and then dine back in Rome.
Here we will tell you all about the choice of cuisine on offer both in and near the Vatican City so you won't be stuck for food after a day of queues and museums.
Places to eat near the Vatican City?
Let's start with restaurants and cafes within the Vatican City perimeter. These Vatican City restaurants are ideal for those whose feet need a welcome rest after trawling the attractions of the Vatican Museums, and for those who want to tick off eating a meal in the smallest country on earth on their to-do list
This self-service restaurant is found near the Atrium of the Four Gates and offers traditional Italian fayre plus fast food favourites such as burgers and hot dogs.
There is an Italian Pizza selection on the menu too, as well as set menu options. Interestingly, you cannot visit this restaurant unless you are on a ticket to the Vatican Museums.
But you can pre-purchase a set menu + entry ticket for about €30 to the museums website.
Don't be expecting an Italian culinary experience however – the restaurant is set up to serve high volumes of visitors and simple food.
With Vatican City restaurants thin on the ground and an eager and hungry market, there is not much competition to keep the prices down here either.
The Caffetteria Centrale,  Caffetteria Le Carrozze and Caffetteria Il Forno
An easy alternative to The Ristorante, the Centrale café serves lighter fayre not far from the self-service restaurant in the Vatican. Great if you need a pick me up before visiting the next gallery.
Again, it is not possible to enter this café or the similar Caffetteria Le Carrozze, which is found near the Carriage Pavillion, without a ticket to the Museums.
Finally, for the best views over the Basilica with your morning coffee head to Caffetteria Il Forno.
No prizes for guessing what's served up here, and again entry is only open to those who have a valid Vatican museum ticket. It's one of two Vatican City Restaurants serving pizza, the other being the Ristorante.
Situated outside in the Pinecone Courtyard and perhaps better for the people watching rather than the food, this bistrot is a nice place (see pictures) at which to take a break and watch the world go by.
And, you guessed it – you can't eat here without a valid ticket to the museums.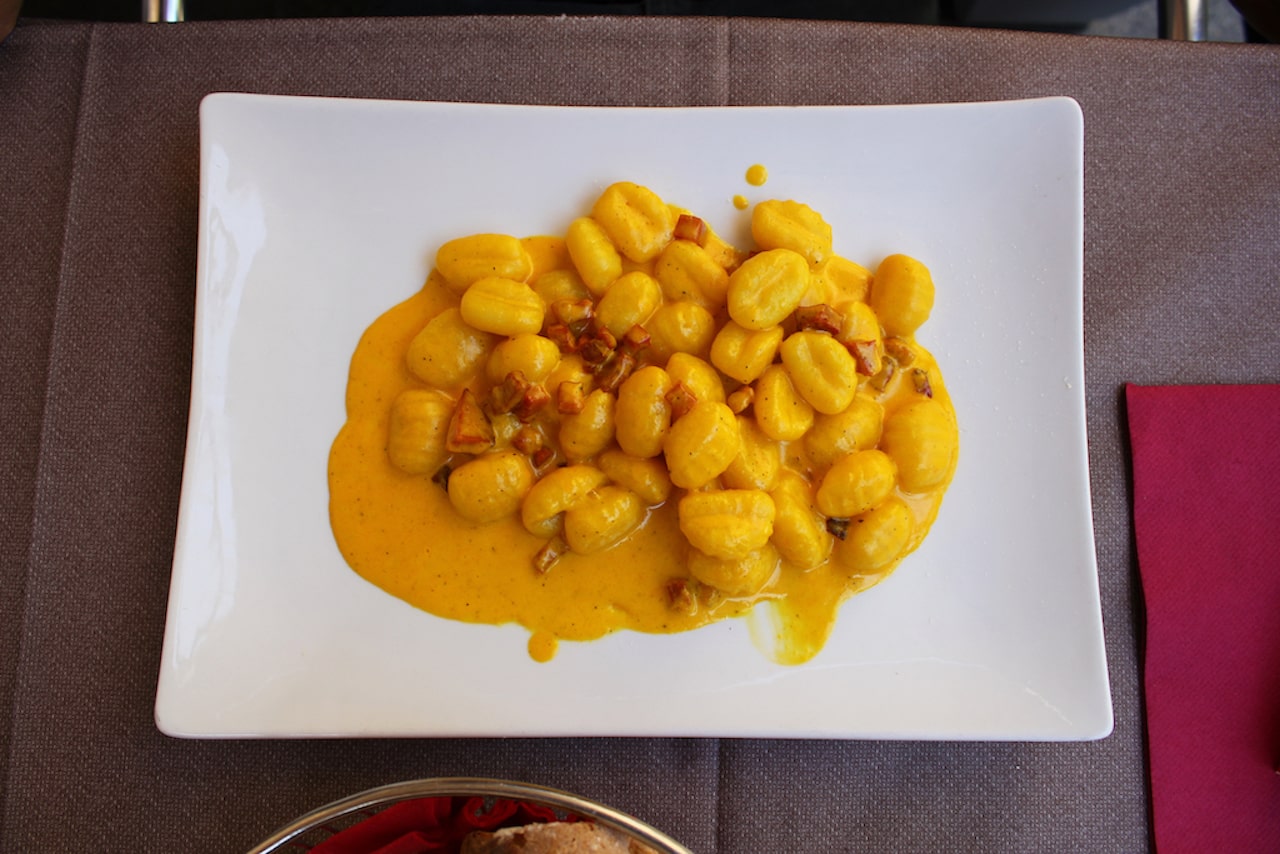 Where to find restaurants near the Vatican?
For better value for money and more authentic Italian food you will need to leave the Vatican City walls.
There are plenty of places to eat near the Vatican, although of course the closer you are to the Vatican walls the more "touristy" the establishment.
The Prati district of Rome offers perhaps some of the best choice of places to eat near the Vatican. It's also not nearly as busy as it should be, as many of the hoards of tourists visiting the Vatican eat within the walls or bring a packed lunch.
As a result you will find Prati a great place to explore and sample some traditional food.
There are plenty of splendid restaurants in Prati, with lots of Italian style panini cafes, pizzerias and wine bars.
Of course, there are also fast food restaurants here serving burgers and chips, but why eat that when you can have delicious pasta dishes, fresh salads and gorgeous pizzas in any number of establishments in El Prati.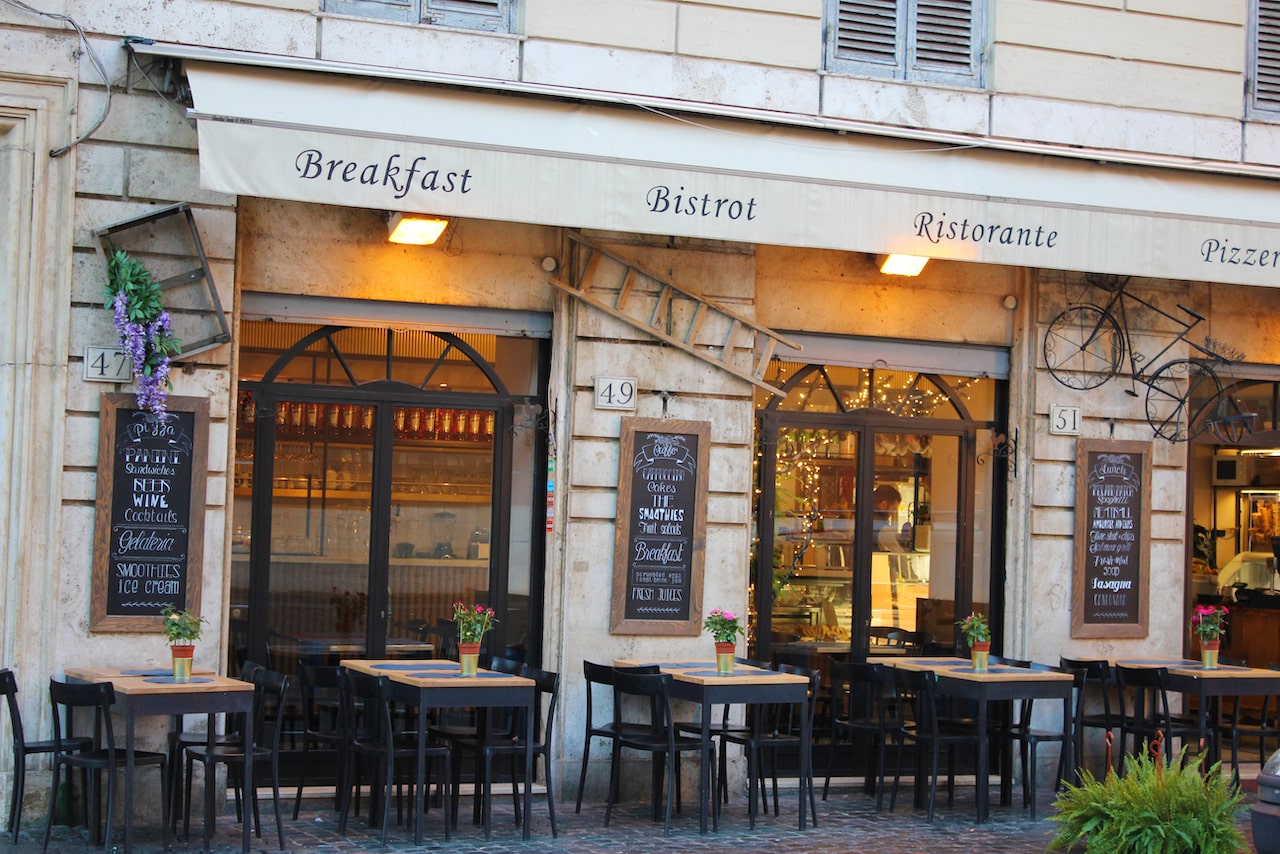 The Vatican City Guide website also makes a good suggestion for those who want fresh local food without paying tourist prices – head to the vibrant Trifonale Market and hand pick your own fruit, cheese, meats and other delicacies for a fraction of the price of what is sold in the restaurants!
The best restaurants near the Vatican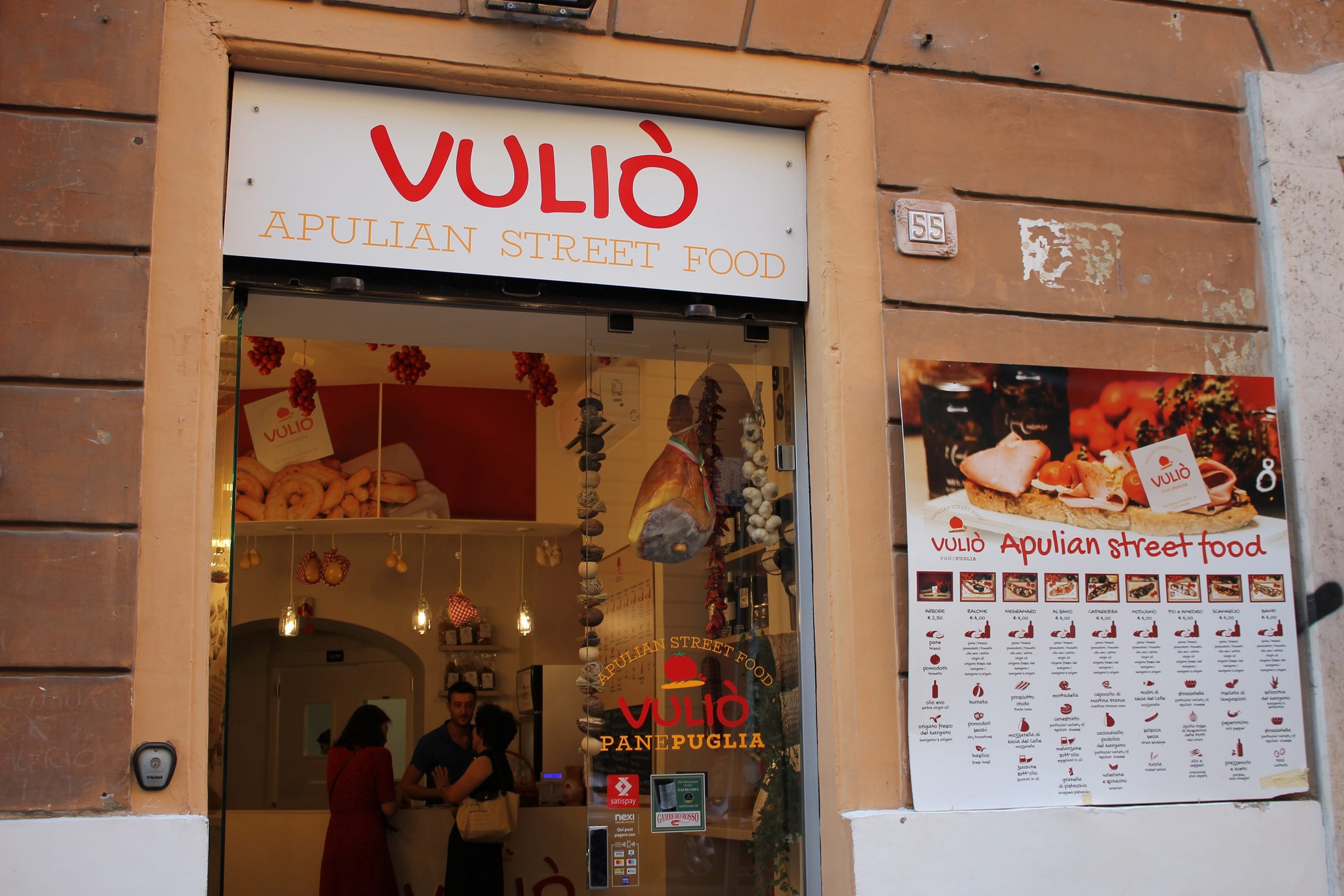 There are some really good places to eat near the Vatican, from quick cafes serving paninis and a slice of pizza, to high end trattorias and bistros with fine wines and an extensive menu. Here are some of our suggestions:
2 Budget restaurants near Vatican
Try Vulio on Via Degli Scipioni 55 for great value, simple and tasty Italian fayre. With meat platters, paninis and bruschetta on the menu and a relaxed vibe, Vulio is a great place to grab a quick bite between attractions. Open from 11am to 10pm it's definitely worth a stop. Reservations not necessary
Pizza Dai Cinque is another great cheap eat near the Vatican. On Via Cicerone, the beauty of this little pizzeria is the selection on offer, and the menu set-up that lets you sample small bites of different pizza styles and flavours. Drop on in here – no reservations needed at this casual joint.
Mid-range restaurants near Vatican
The décor of MiVa is one of the main reasons to eat here, but the food is not bad either! Sit in the funky interior and sample Italian food with a twist. This mid-range restaurant has simple dishes such as lasagne beginning at about €10, and cocktails starting at 9€.
For traditional pizza and pasta comfort foods why not give Amalfi in Pasta on Via Ottaviano a try. Fantastic pizza is served here hot out of a traditional oven and the menu features traditional Neapolitian food in a relaxed setting. Call +39 06 3975 1501 for reservations or check their website.
For a special occasion or a well-deserved treat head to Romeo on Piazza dell'Emporio. Closed on Mondays but open until 2am the remainder of the week, this fine dining restaurant is the place to head near the Vatican for a blow-out meal.
Call (+39) 06 32110120 for reservations.
Located on Via Giuseppe Pisanelli 23/25 inside a 5 stars hotel, the Michelin star restaurant Ristorante All'Oro is just a 25 minute walk from the Vatican museums.
Bring your credit card to this spectacular restaurant which has a special vegan and gluten free menu as well as some delicious meat dishes.
Reservations are a must here – call +39 0697996907
Where to eat in Vatican City when you are in a hurry?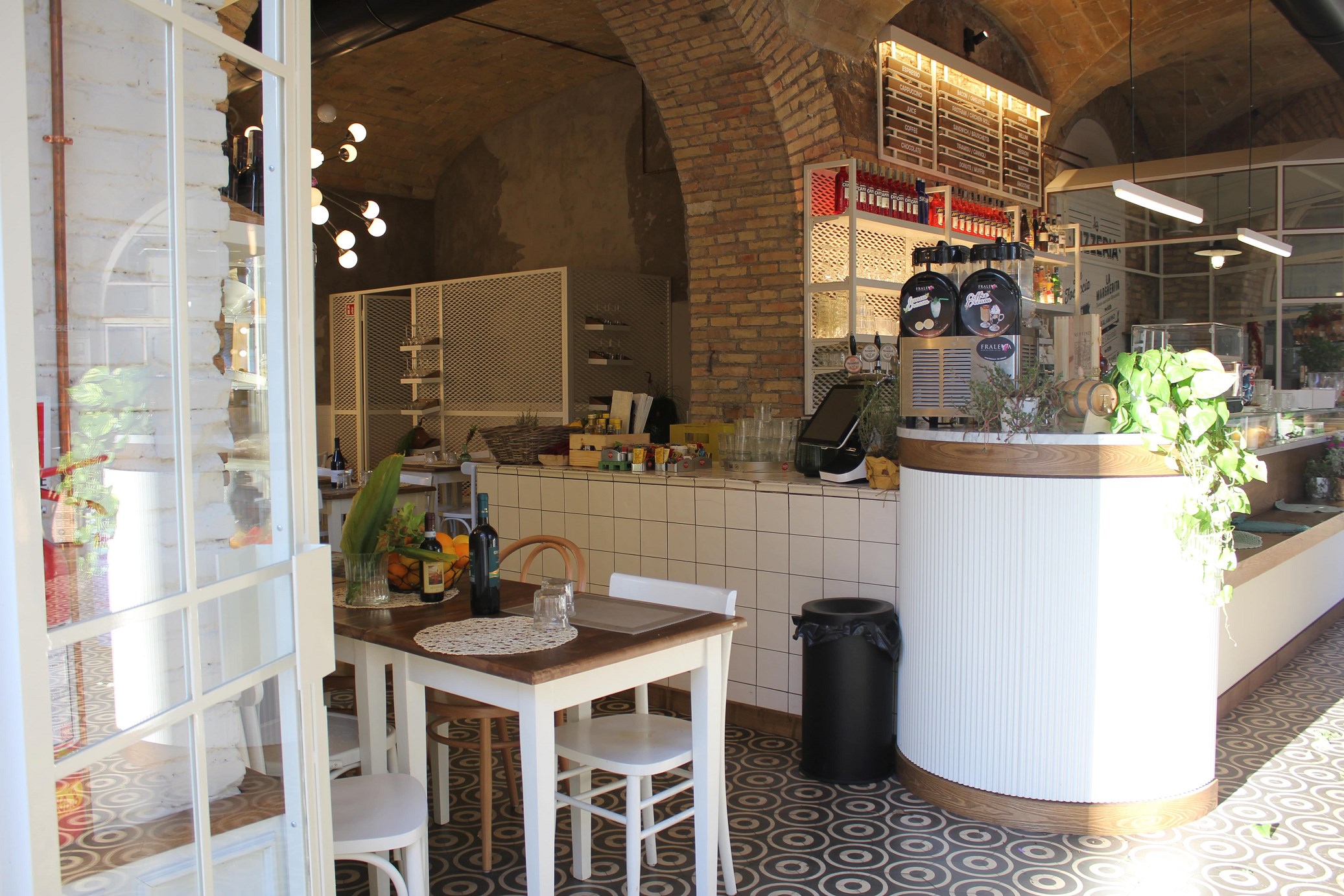 Firstly, we have to stress you should never hurry a trip to the Vatican City!
But if you are on a short layover or really do have limited time we recommend you skip the overpriced Vatican museum cafes and restaurants and spend your time enjoying the people watching and views in St Peter's Square.
Bring a light lunch with you – (everything must be sealed in either zip lock bags or original packing and drinks cannot be in glass bottles)  and take a break from the sights as you eat.
This will avoid you having to leave the Vatican entirely to find a restaurant or queue in the Ristorante amongst thousands of hungry tourists – something that you don't have time to do.
Have a breakfast in the Vatican Museums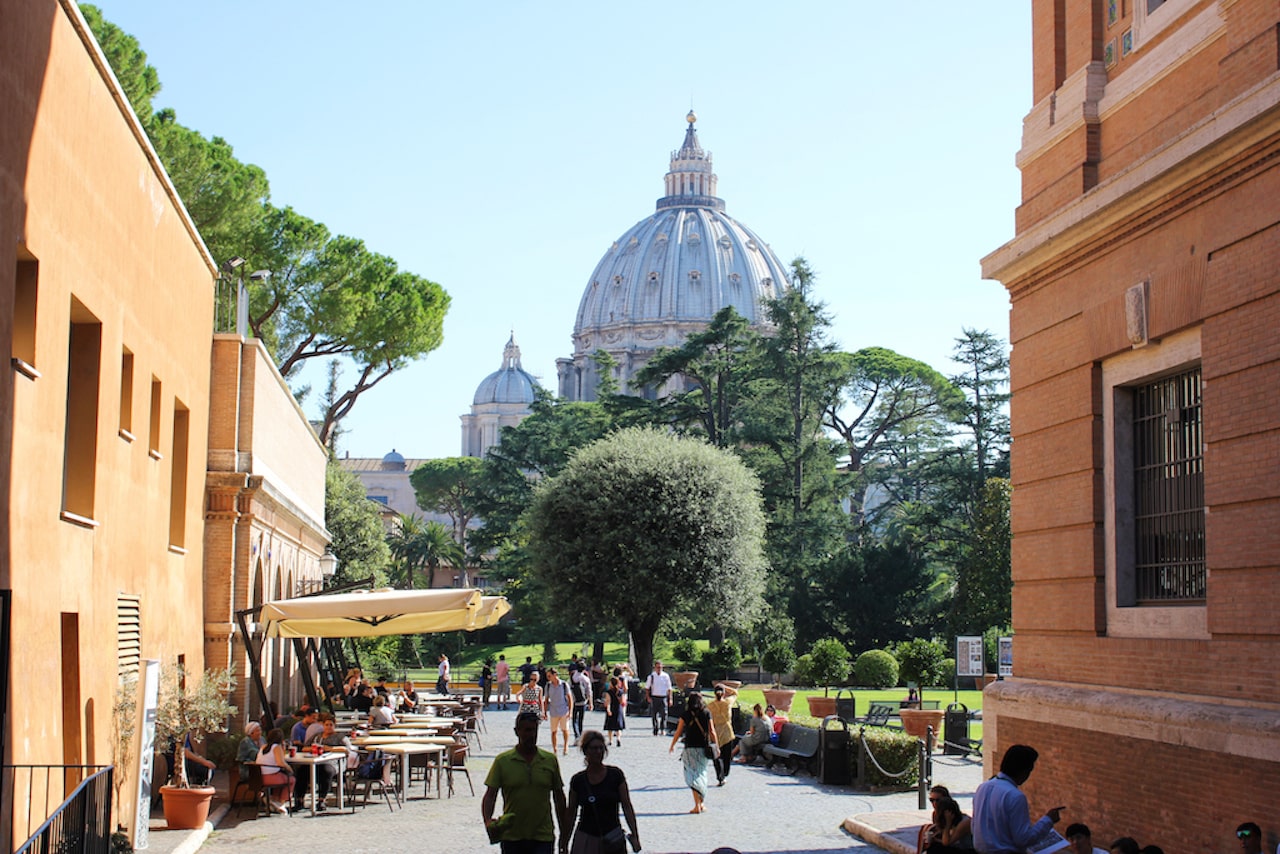 Breakfast with the Pope?
Well, not quite. But you can eat breakfast in the Vatican! The three Vatican cafes are your best bet – open from around 9am they offer brioches, croissants and a cup of coffee.
For the best breakfast seat head to Caffetteria Il Forno in the good weather for a spot of people watching and some caffeine before hitting the museums!
Conclusion on restaurants near Vatican

We hope the above gives you some food for thought (no pun intended) as to how to plan your trip to the Vatican and where to eat.
As suggested, the Ristorante in the Vatican can be pre booked to avoid crowds, and we would suggest reserving a table at any high end restaurant near the Vatican to avoid disappointment.