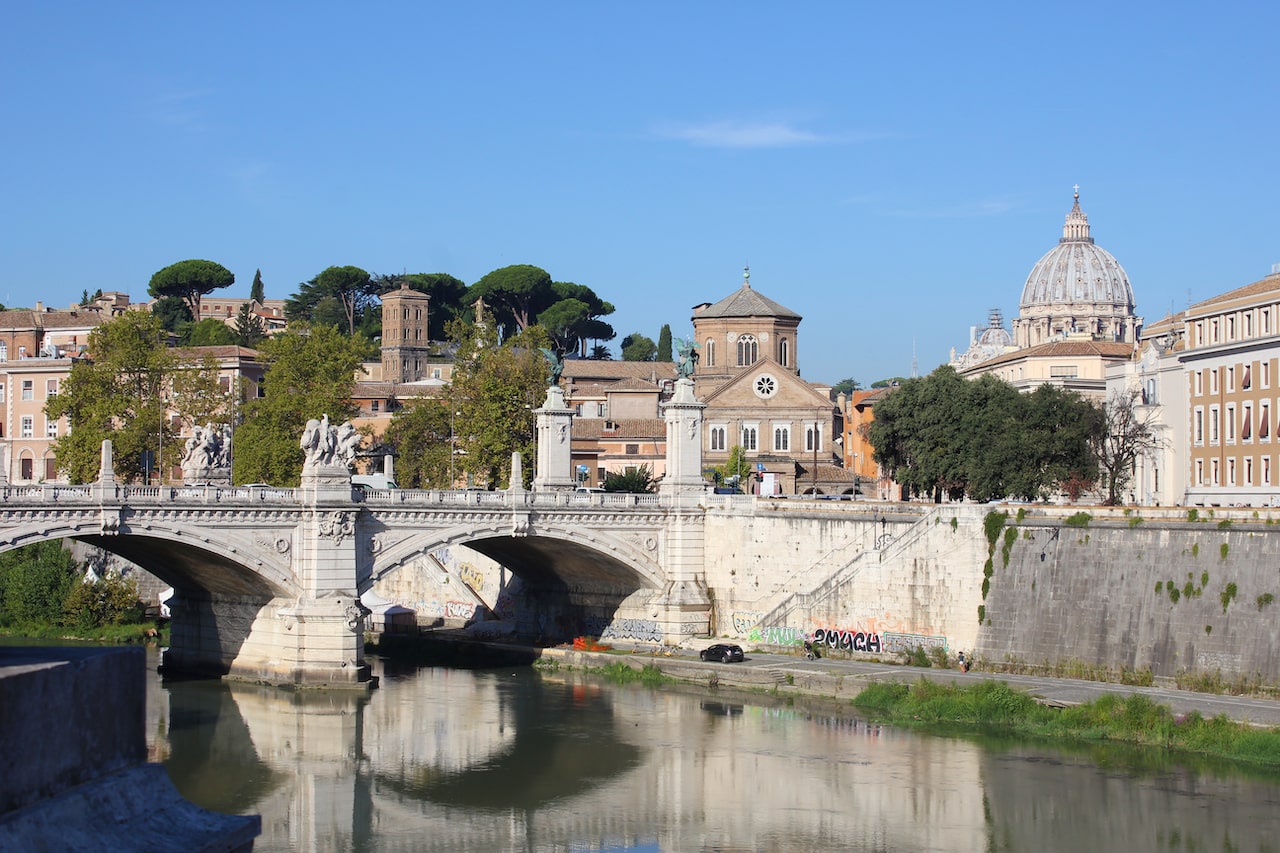 Hotels near the Vatican City : Where to stay near the Holy See ?
There is so much choice for accommodation near the Vatican, it is hard to get your head around which options are best! Whether you are a backpacker or a business person, a pilgrim or a millionaire you will find plenty of choice for hotels near the Vatican city. Check out our guide to help you choose the best options for your trip.
The 5 best Vatican City Hotels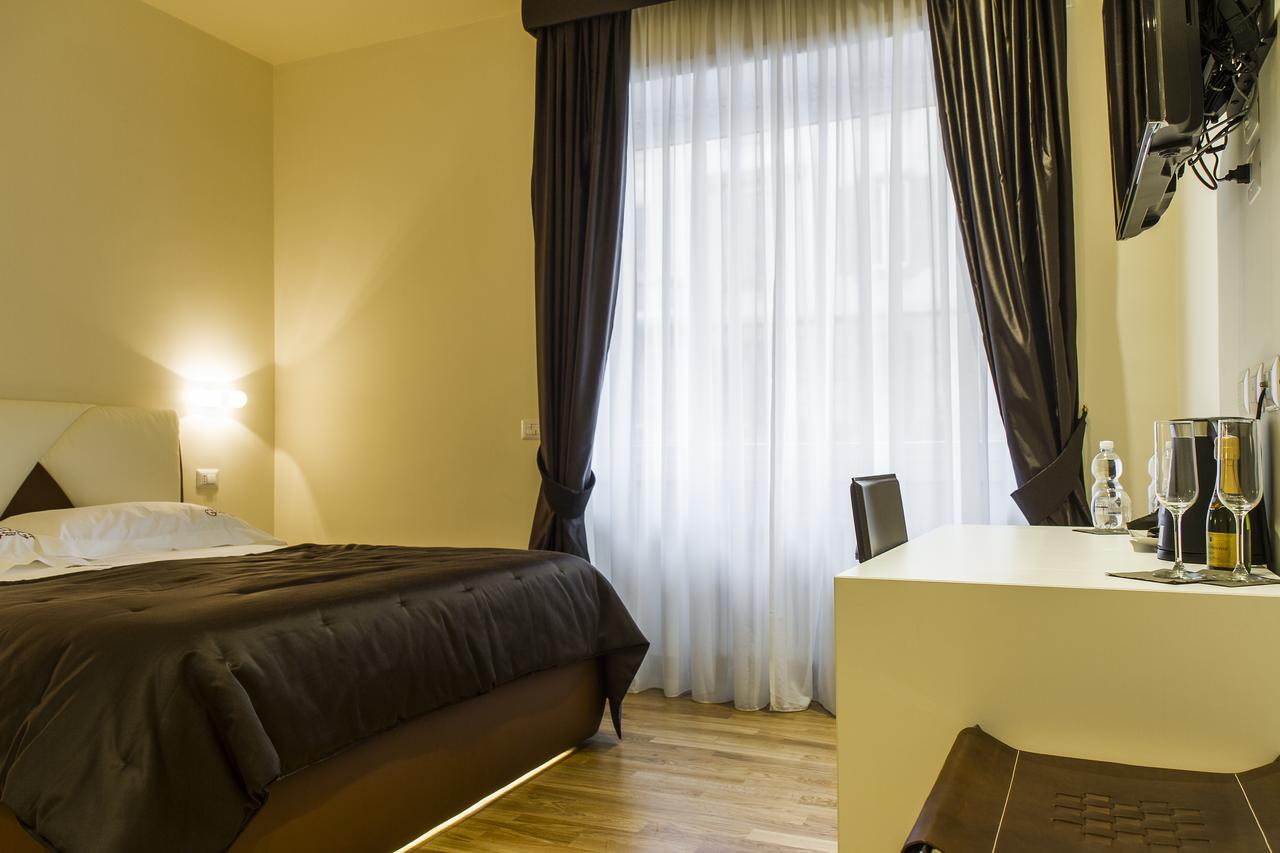 Situated in an area full of shops and restaurants, this hotel is located around half a kilometre away from the entrance gates of the Vatican City, making it an easy and straight forward stroll for most visitors.
It is also only a few minutes away from the Lepanto Metro station, giving access to all parts of the city of Rome and its super attractions.
A stay in this location offers real value for money, with a single room starting at around 110€ per night, so it's a really good Vatican City hotel.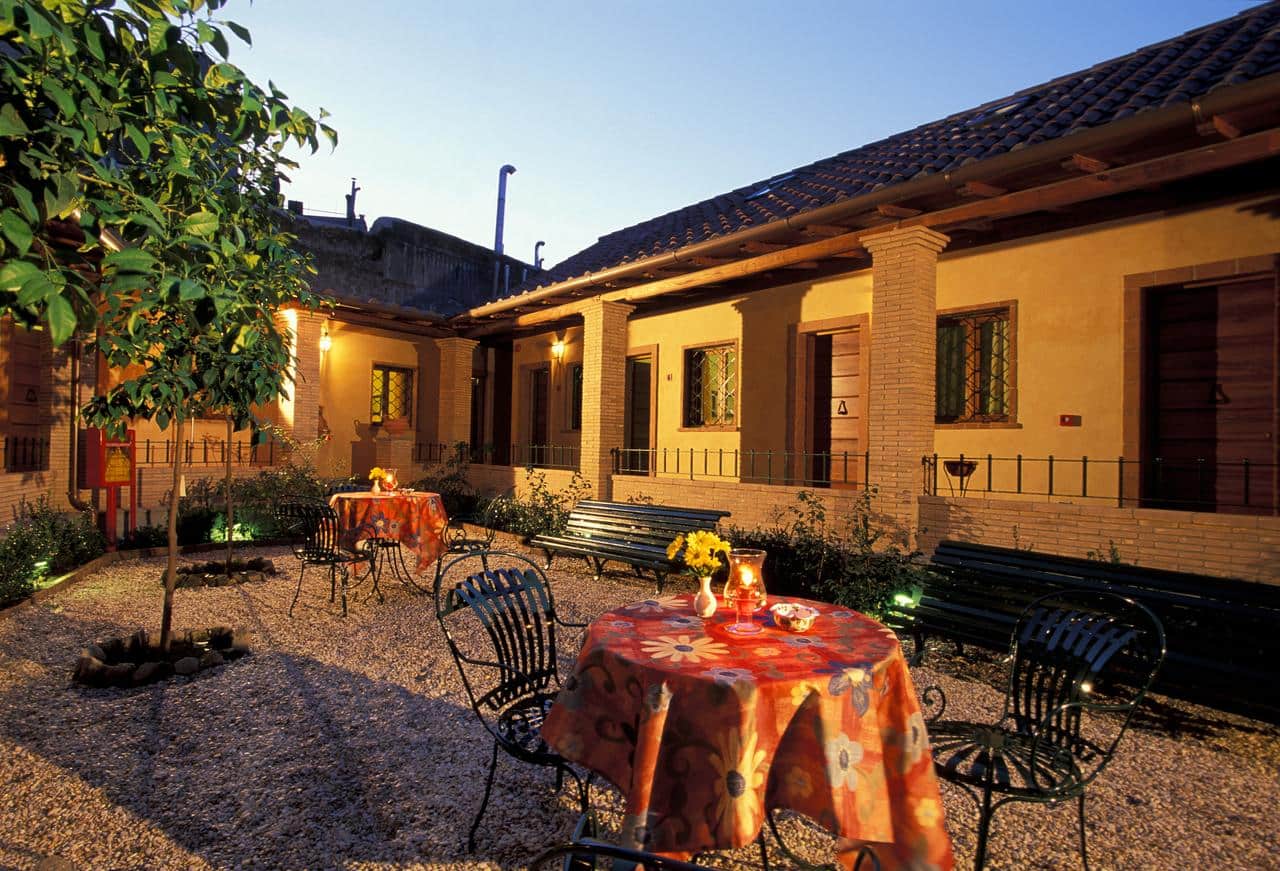 Located just over a mile away from the Vatican, this hotel is still within walkable distance from St. Peter's Square.
This hotel near the Vatican is known to be an island of tranquillity amongst the frenzy of day to day life of Rome. Visitors can enjoy their breakfast or a cocktail in the hotel's beautiful courtyard which is dotted with Orange trees.
The price of a single room starts at around 220€ per night.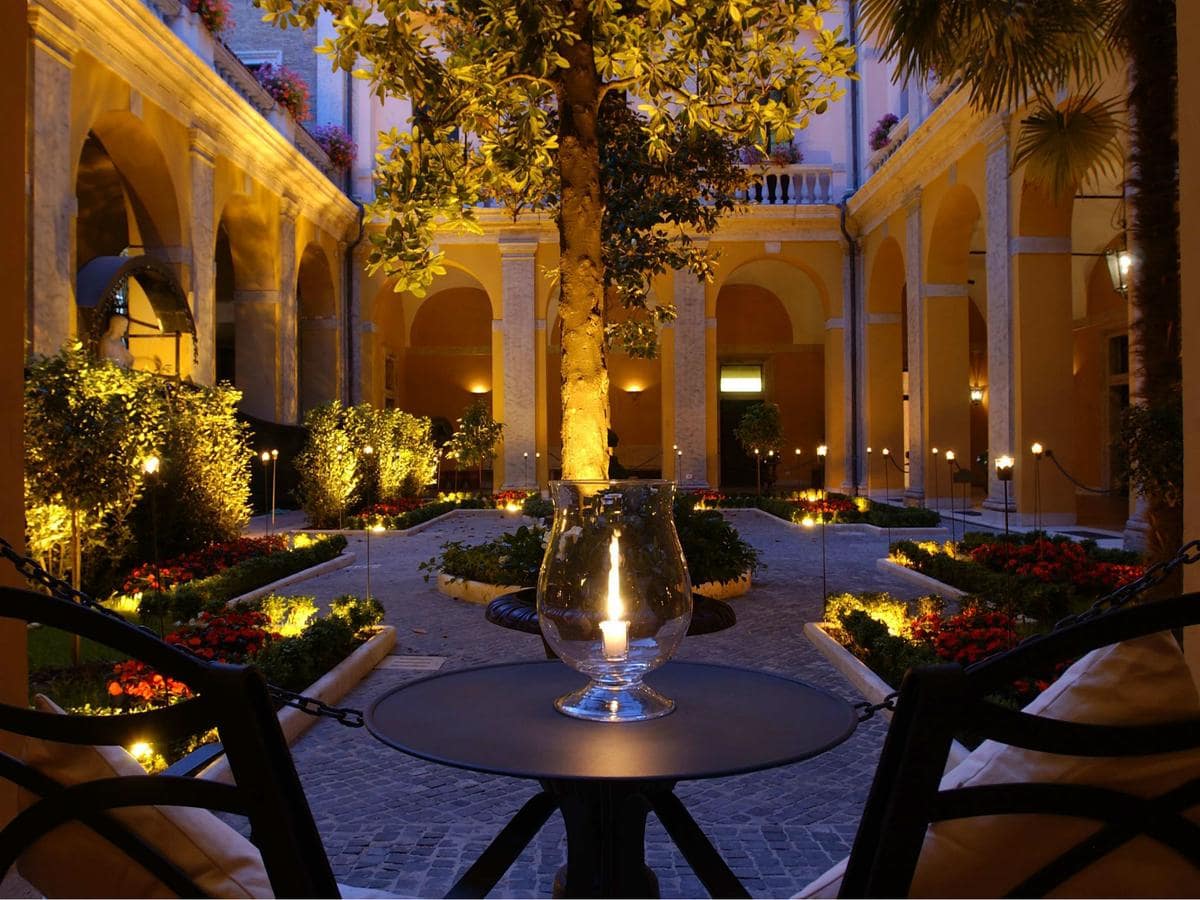 Palazzo Cardinal Cesi is located super close to the Vatican – St. Peter's Square is mere yards from the hotel entrance.
The hotel is adorned with historic grandeur that will amaze even the most discerning of guests. The staff are known to be very helpful and a delight to deal with.
If you are looking for a convenient option this is a great choice as most of Rome's attractions are within walking distance.
Prices starts at around 280€ a night for a single room in high season.
Hotel Indigo Rome – St. George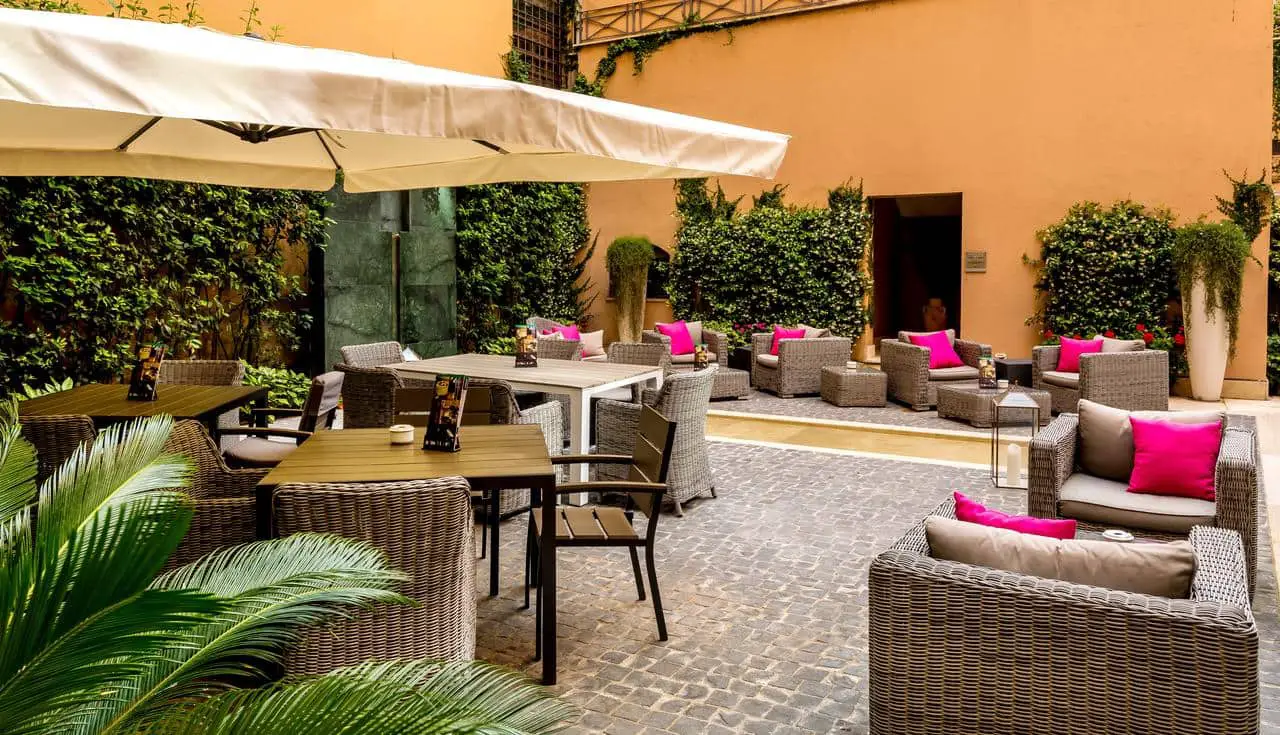 Located on charming cobbled back streets across the Tiber River from the Vatican City, this boutique hotel is famous for its vistas from its rooftop terrace.
Located about 500 meters away from the Vatican City, the hotel is a short walk away from this and other major attractions such as the Piazza Navona, Pantheon, Castle Sant Angelo.
Prices for a single room in high season start at around 280€ per night.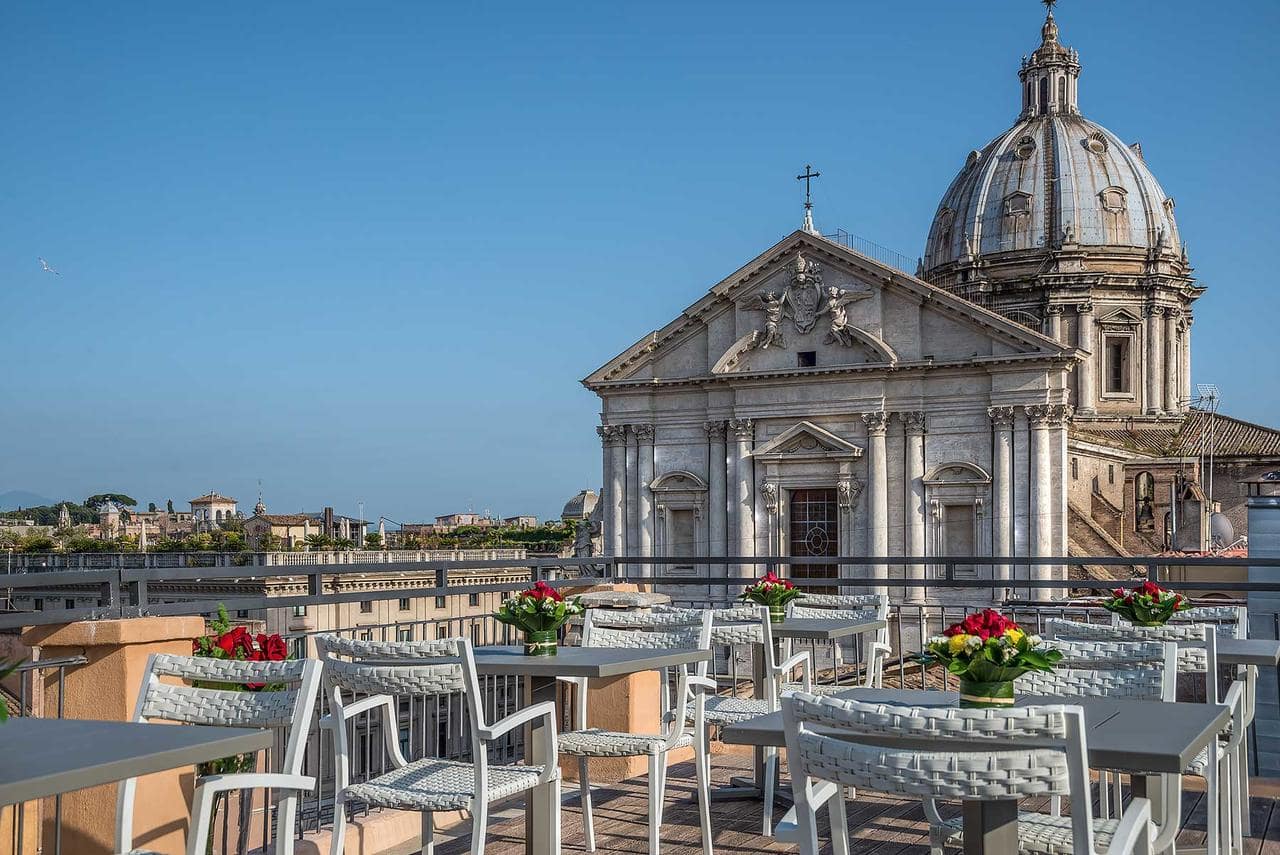 Located about a mile away from the walls of the Vatican City, this stylish hotel is known for its helpful staff. The location is ideal for those undertaking walking tours of famous landmarks such as the Piazza Navona and Pantheon located a stone's throw away, and walking to the Vatican City is not beyond the ability of the active tourist.
There is a rooftop terrace with great views of Rome that is definitely worth exploring, there is no better way to have an evening drink as the sun sets!
A single room in this Vatican City hotel starts from around 300€ per night.
Budget accommodations and hotels near the Vatican City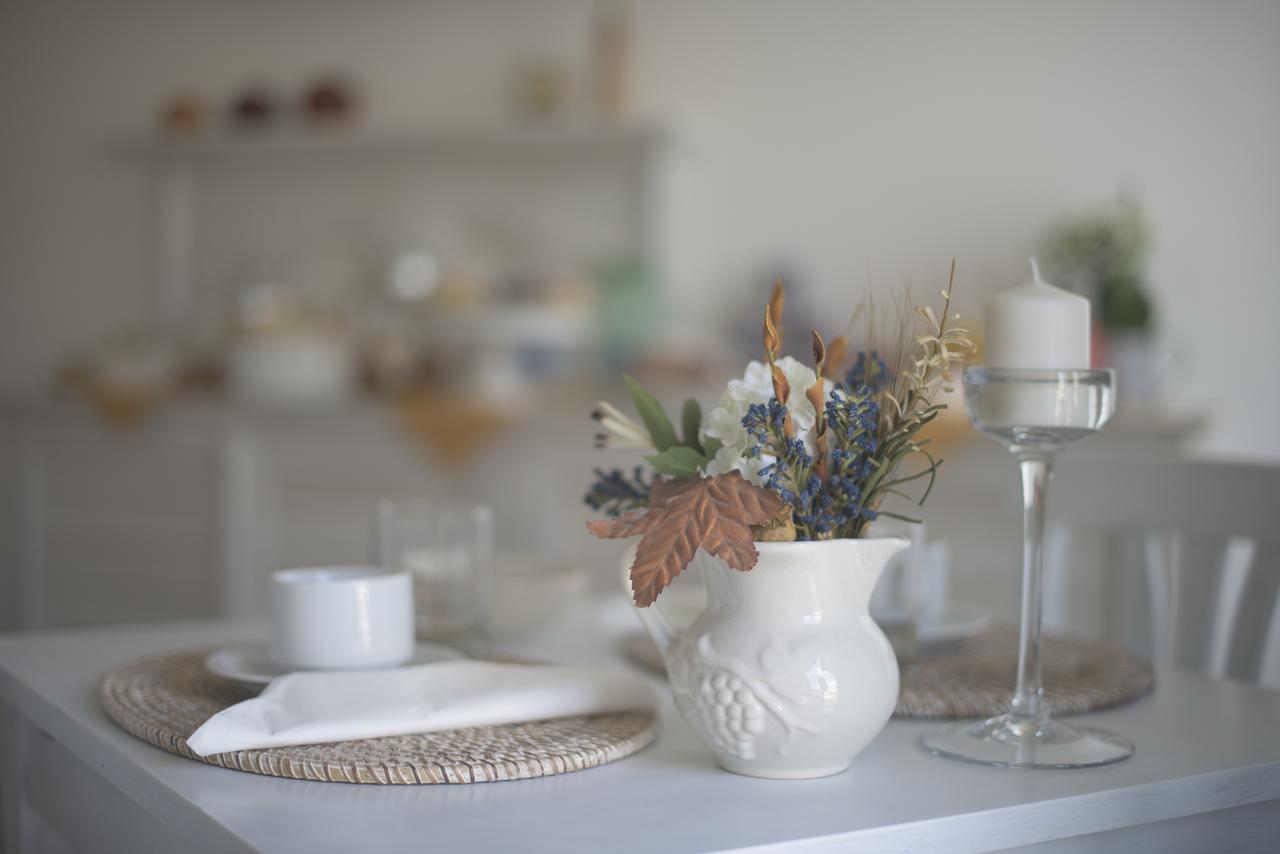 Located right outside the Baldo degli Ubaldi metro station, this ideally located B&B not only allows for access to all parts of the city of Rome but is also located less than half a mile from the Vatican City itself allowing for a short walk to the Holy See.
The spacious and clean rooms on offer come highly recommended by previous visitors.
A night at this B&B will costs around 80€ in high season.
Aldebaran Bed & Breakfast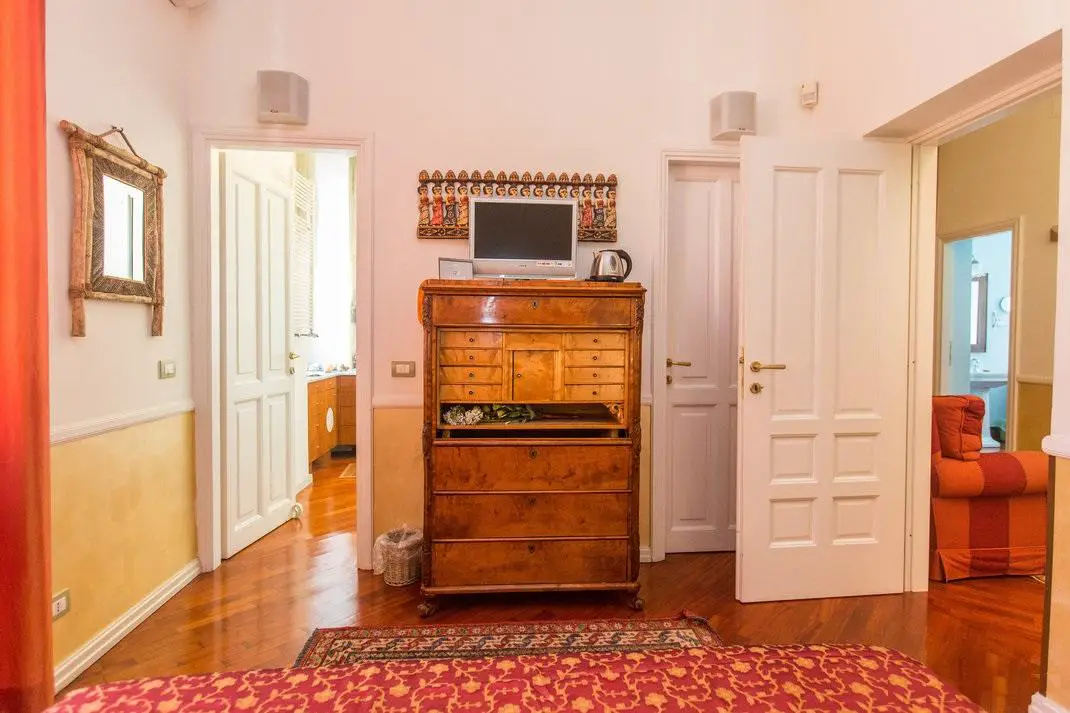 Situated in one of the traditional neighbourhoods of Rome surrounded by local shops and restaurants, a visitor to this hotel near the Vatican will get a genuine feel of the city.
Conveniently located only a few minutes' walk from Manzoni Metro, this hotel provides great access to the public transport that will get tourists to the Vatican City within a few short stops.
A stay at a room in this hotel will cost guests around 70€ per night.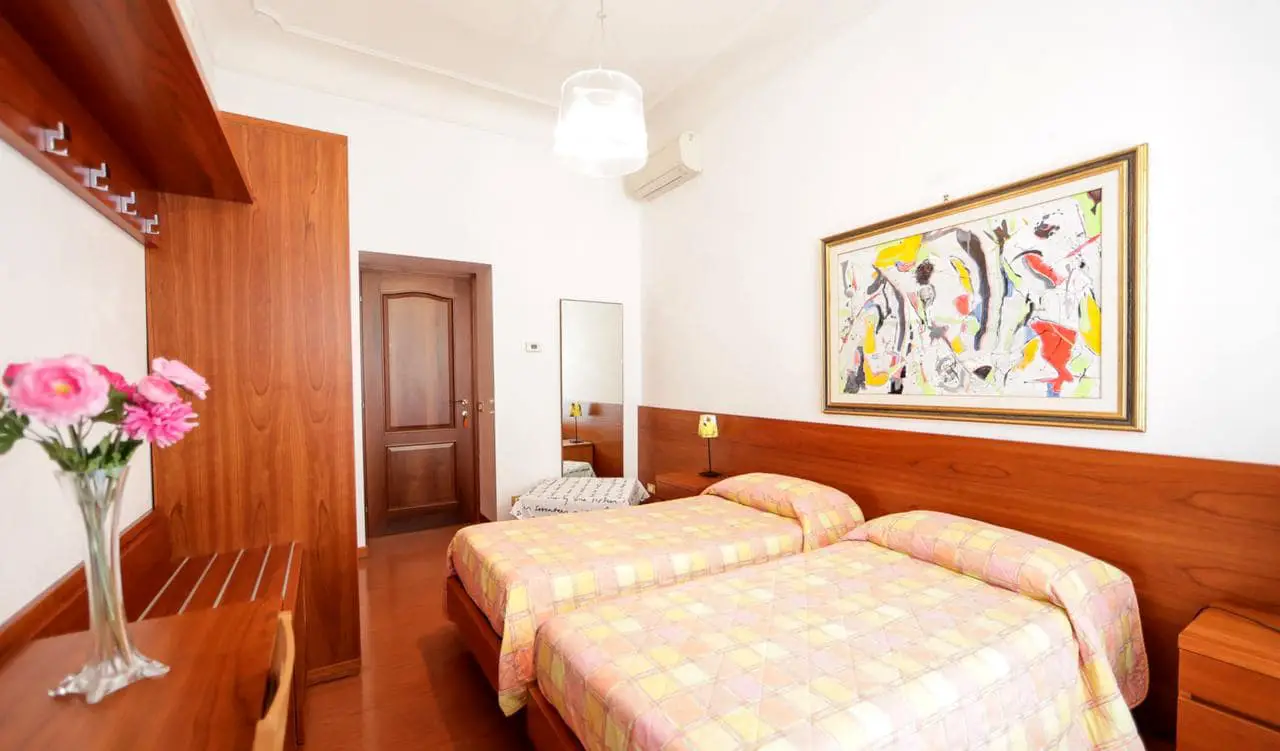 With well-proportioned and clean modern rooms, this hotel is ideally positioned for any visitor to Rome.
It is a mere 10 minutes walking distance from the Central Termini Train station, and is located close to the Repubblica metro station, allowing for easy and affordable transit around the city and a few short stops will on the metro will get you to the Vatican.
A stay in one of these rooms would be an affordable 80€ per night.
Airbnb : the perfect Vatican accommodation
A hotel or B&B in Rome may not be everyone's cup of tea. For some, a day at the museums or the historic sights of Rome mean you just want to collapse in a heap in cosy surroundings, not traipse to the hotel restaurant for dinner.
Airbnb offers great options for accommodation near the Vatican. Rent a whole apartment for privacy or take advantage of the chance to stay in a room in accommodation shared with the owner– you can ask them all about the handy hints and tips you need for your time in Rome.
Save up to $47 by registering via this link.
Luxury hotels near the Vatican City

Rome has its' fair share of excellent luxury hotels near the Vatican City! Below are just some examples.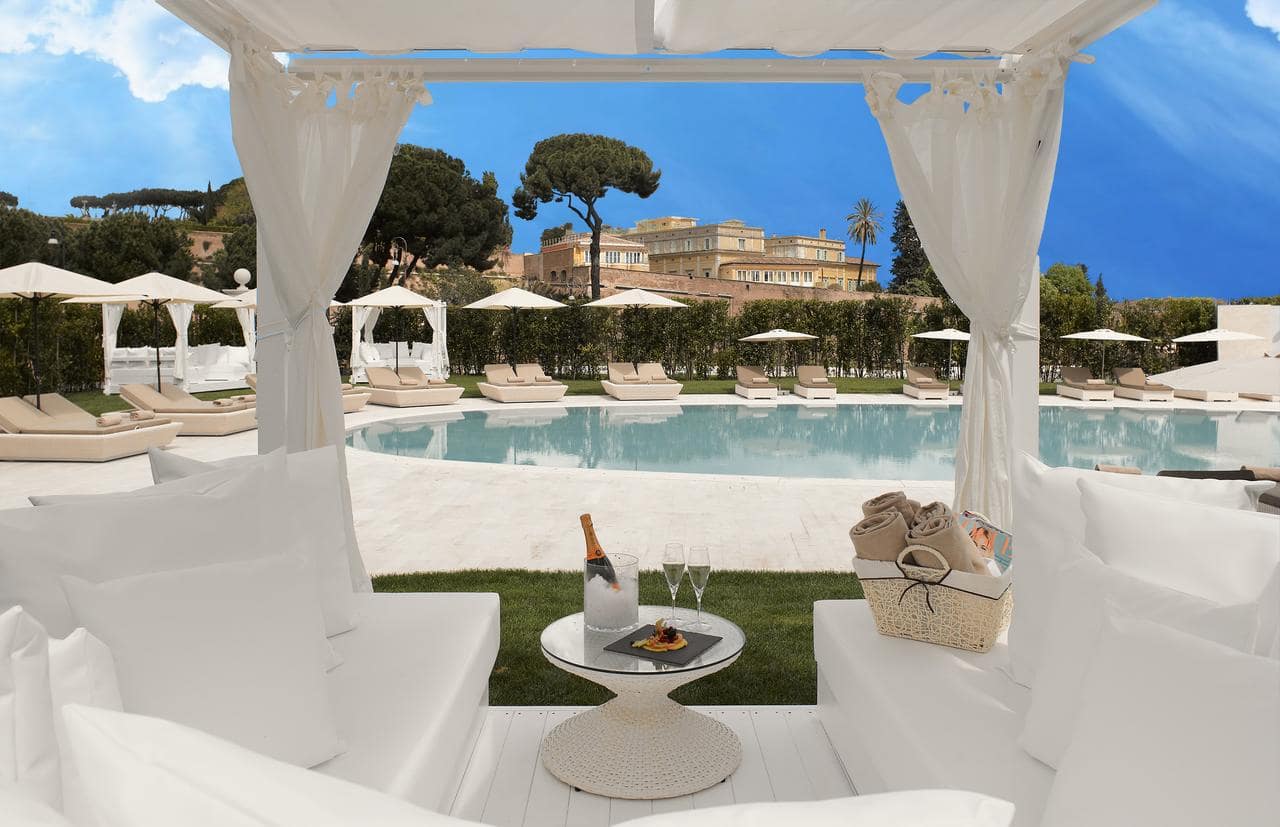 Known for its English speaking and polite staff, this grand hotel is located about 10 minutes walking distance from the Vatican city in a quiet neighbourhood, providing a quiet and pleasant space away from the busy streets of Rome.
This ideally located Vatican City hotel allows for tourists to walk to most of the city's major attractions, although Taxis are also readily available if the hot weather is too much to bear.
Single rooms start at around 340€ per night, but can cost significantly more for upgrades.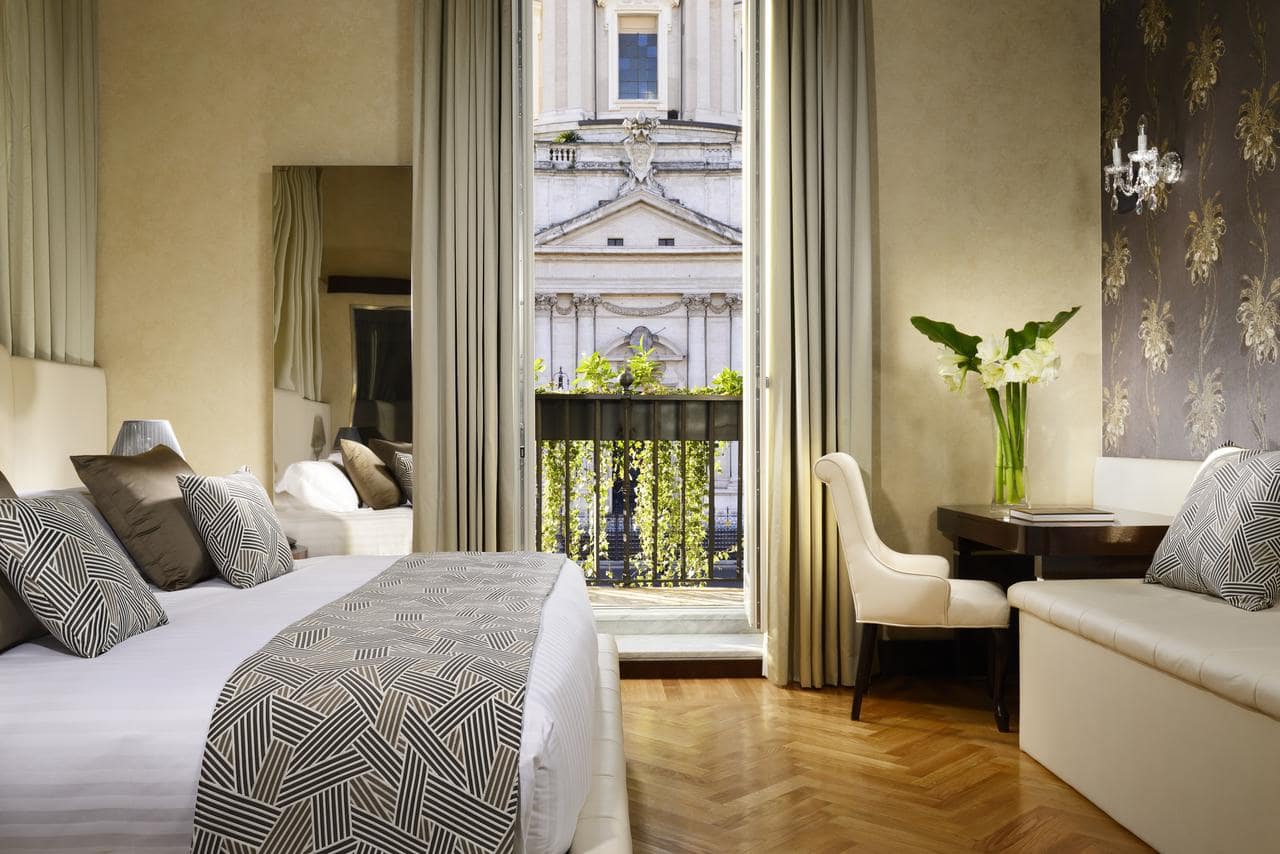 Known for its large designer rooms, personalised service, and an unbeatable location, this luxurious hotel ticks all the boxes for an amazing experience at the centre of the tourist trail.
Within walking distance of most of Rome's attractions, it is only a short stroll across the river to the Vatican City.
Most of the rooms have their own private balconies with amazing views of famous landmarks of the city.
Breakfast is also served on the roof terrace, which combines a welcome fix of caffeine with the atmosphere and noise of the streets below.
A stay at this hotel of in a single room starts at around 500€ per night.
Hotels near the Vatican ? Best areas to stay in Rome for visiting the Vatican
Rome is a fascinating city and there are so many interesting areas to explore. For romantic breaks and long strolls with beautiful views, try the Aventine Hill area.
If it's a party hotspot you are after when staying in Rome then look no further than Trastavere for its bars and live lounges, and those looking to be right in the thick of the attractions should stay in the historic centre.
But if you want to wake up each morning and be near the Vatican then the Prati area is probably your best bet. It is offering walking distance to the Vatican and a selection of bars, restaurants and shops. It probably offers the widest selection of choice and atmosphere for those looking for accommodation near the Vatican.
How to enjoy your trip and save money with a Vatican hostel?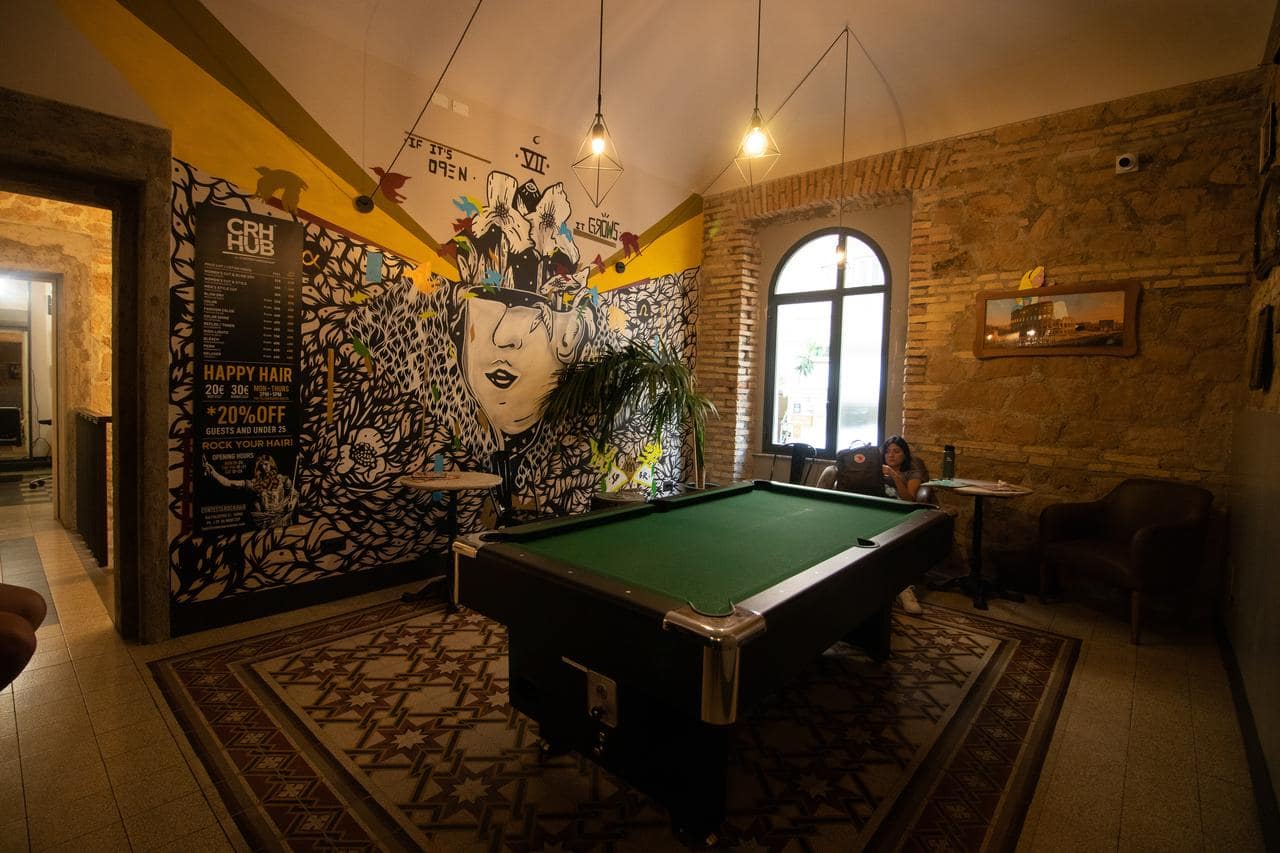 Let's face it – Rome is not cheap, and if you are on a budget then you may need to look into a hostel or shared accommodation.
Hostel beds can start from as little as €16 a night in Rome, and if you don't mind sharing your sleeping space  or a bathroom are a fantastic option for those looking to save their money for some of the great things to do in Rome. Check out
The Yellow Hostel (check prices) or the Hostel Alessandro Palace (check prices) for some of the cheapest beds in Rome.
Conclusion on Hotels near the Vatican City

Now you have read these accommodation in Rome tips it's time to book your hotel and pack your bags! Whatever accommodation you choose when visiting the Vatican City we are sure you'll have a blast!